Maintain A High Vibration With Constant Awareness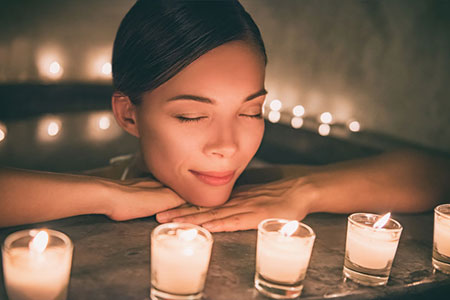 Being aware is the most important component of maintaining a high vibration. We tend to revert to old patterns and habits that cause a lower vibration at times. One needs to be consciously aware and pay attention to these lower vibrations, when they happen, and do something to realign your energy frequency.
When you experience a shift in vibration, there are many great techniques to raise your vibration, such as Transcendental Meditation or Kundalini Yoga… or just something as simple as taking a salt water bath! Another quick way to shift your energy is to put sage oil in a spray bottle of water and spray it over your head, to give yourself a quick cleanse.
You can also maintain a high vibration by keeping your house clean, and asking the angels to bless you with their love and light. Do whatever it takes to shift negative energy in your life into a positive frequency. The longer you stay in a zone of negative energy, the harder it will become to get rid of it.
Your energy frequency plays a vital role in your life, as it defines your connection to both the physical and the spiritual world. Aim to keep your vibration as high as possible at all times, as lower vibrational frequencies are linked to feelings of depression, fear, doubt and anxiety. To keep your vibration high, and maintain it on high in the world we currently live in, is certainly a challenge, but it is worth the effort.

Just to be aware of your vibration is already half the battle won, or I would say more than half, because just being aware of it is the key. Once you feel yourself slipping…switch it!
Everything you need to fulfill your greatest desire is already part of your being. But it can't come out until you align with it, let go of the obstructions to it, and raise your vibration to the level at which it already exists ~ Derek Rydall
The constant changes in your environment affects your vibration all the time. The present moment is yours to grasp and you must choose how it will affect you. Choose love and light with every opportunity, instead of letting anything or anyone have a negative impact on you.
Claim your power! You have the power to decide how to let things affect you. When a challenge is thrown your way, instead of letting it weigh you down, you should claim your power from it. This leads to an increase in your vibration so, all you need to do is take action.
When you feel low on energy, get yourself moving. You can decide to go on a hike or a walk, or do some workout, or perhaps even start jumping around in your room. Whatever is needed to create a shift in vibration, is what you need to do at that time.
Your personal vibration or energy state is a blend of the contracted or expanded frequencies of your body emotions and thoughts at any given moment. The more you allow your soul to shine through you, the higher your personal vibration will be ~ Penney Peirce
You have the angels to back you up with help, guidance, or assistance, if need be. You have the support of the entire realm of light, which includes your spirit guides, the angels, and the archangels. If you fail to shift your vibration yourself, you can and should call upon Archangel Michael who will help, guide, and assist you to shift our vibration. You can always invoke the angels in case of any time where you get lost and don't know what to do.
There is always room to grow and find new ways to raise your frequency. The quest to raise your vibration does not have an end. It remains a work in progress. If at any point you think that you can't raise your vibration any further, just know in your mind that you are wrong. The path is long and never-ending. Thus, all you need to do is keep moving.

About The Author: Venus

Venus lives in Arizona and has helped clients with her arsenal of psychic gifts for over twenty years. She was blessed with Clairvoyance, Clairaudience, Clairsentience and Empathic gifts, and she is also a certified Life Coach and a Reiki practitioner. Departed loved ones will often enter a reading, either invited or they simply show up to pass along their messages. Messages also flow in from her direct communication to Spirit and Angels, providing the client with the answers they need to get them moving forward toward happiness, rewards, and success in their lives. In addition to being a psychic, life coach, and reiki practitioner, over the last ten years, she has also been a teacher and has led seminars to help others embrace their higher knowledge. If you'd like a compassionate psychic who can tune-in immediately and channel without tools, you'll want a reading with Venus at: PsychicAccess.com.