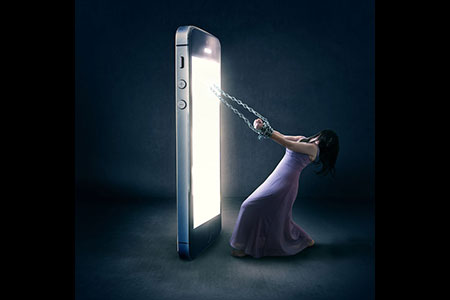 I used to walk around the lake in the small town where I used to live. It was a picturesque hike that took you all the way around a large body of water that fed into the lake.
It was also a popular camping ground. Many city folks came to our little rural town to camp. Day after day, I saw them walking their dogs around the campsite, or relaxing on the park benches overlooking the water.
But nobody seemed to be appreciating much of the beauty of the natural surroundings. No, they were all too busy looking down at their phones!
In the good old days, people used to love breathing the fresh air, watching the children playing, looking for baby lizards on the sunbaked rocks, admiring a newlywed bride dancing on the beach, or marveling at the curious formations of the clouds above. These many beautiful nuances and subtleties in the world around us, are what make life joyful and precious.
Sadly, even seeing people walk their dogs saddens me these days. Everyone appears to be obsessed with their phones only. The dog owners hardly notice their own dogs, never mind anything else around them. They miss out on their dogs' cute moments of joy and excitement.
Someday, when their dog is no longer around, they might regret missing these precious moments. So many lost opportunities and forfeited memories. Or maybe they will still just be staring at their phone.
Once, I saw a couple at the lake. They were also campers. They were lounging by the water, with their chairs far apart. Of course, this was of no concern to them, because they were both far too busy on their phones to even notice.
I'm sure they were posting pictures they took in front of the lake on social media. By the time they leave, they would have only those photos, but no real experiences or memories of ever being there. They were not at the lake, they were in cyberspace – the cell phone rabbit hole.