Archive for the 'Divination' Category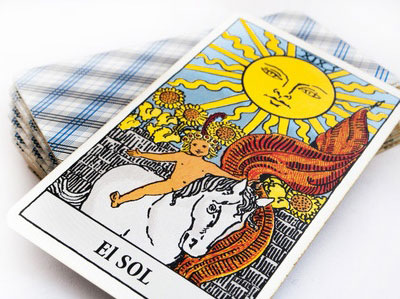 One of my favorite tools to work with for divination and self-exploration is the Tarot. The Tarot is my closest friend, and always by my side during readings.
You know how sometimes in life you get a feeling about something, but you aren't quite able to put it into words?  Well, that's how the Tarot assists me when I read for people. It helps me bridge the everyday life with the esoteric, and translate psychic messages in a practical way.
Sometimes it is as simple as the actual picture on the card having a single element that pops up for me, screaming to be noticed. Read the rest of this entry »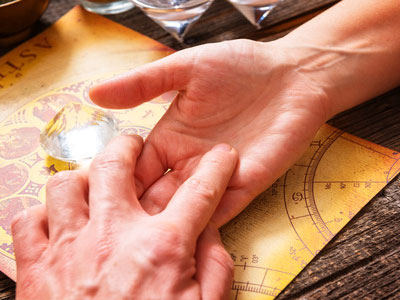 Palmistry, chiromancy, or palm reading, is one of the oldest methods of foretelling the past, present and future, by reading the lines of the hand. It is a form of divination practised all over the world. The earliest recorded evidence of this divination technique has been found in Asia, from where it spread to the rest of the world.
Each person has unique lines and shape of hand. Thus the use of fingerprinting in identifying individuals. In palmistry, the lines and shape of the hands indicate a person's character, marriage, how many children they will have, as well as the foreboding of positive and negative life events. Read the rest of this entry »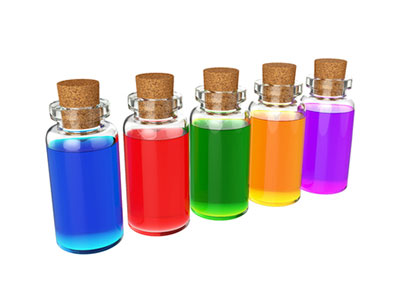 In private sittings, I always commence with a short color reading. I ask customers to select four from my collection of 13 small, colored bottles. The placement of the client's selection in position one, two, three and four each represents a different aspect of their pathway and challenges in life.
Whether the rest of the reading involves the Tarot, throwing the bones, angel cards, or numerology, the synergistic connection with the colors, and the remainder of the reading, is always uncanny. Not to mention that it gives a very 'colorful' start to a reading session.
I have a regular client who is a wonderful and highly respected healer. I have always felt that she channels during her healing sessions, as many of the clients she has sent my way praise her for the words of healing and wisdom they received during sessions with her. I feel that she uses subtle ways to incorporate her psychic ability into her work, without 'spooking' her clients. There are also a select few with whom she feels, intuitively, that she is able to discuss deeper spiritual, and even past life issues. Read the rest of this entry »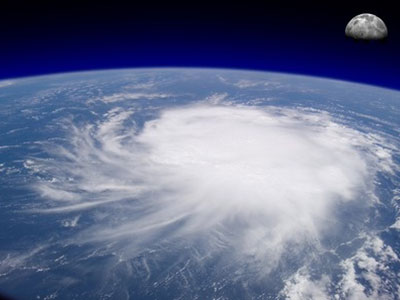 Fall is my favorite time of the year. I always feel much more connected to subtle energies, elementals and spirits, as though they are like people we see in everyday life. The veil between the worlds thin as we approach the end of the natural year. Lately, I began feeling even more connected to Goddess energies than I usually am this time of the year.
I have also been doing some serious thinking on the mysterious Lilith Points that are in everyone's Astrology charts. Lilith is described as the point in our Astrological charts that is all and everything that cannot be explained, but is known as "what is." I found myself meditating on this puzzling description and the answer eventually came to me. It was not as sinister as I thought it would be, and yet it is scary to think about. Read the rest of this entry »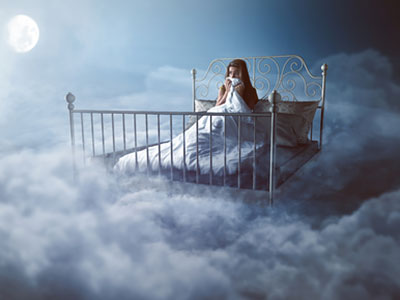 I have always found dreams to be most fascinating.  Interestingly, my guides have taught me that there are, in fact, three types of dreams.
Many dreams are just a result of some of the mundane information we take in on a daily basis. These are usually the kind of dreams which make no sense at all.
Some dreams are simply reflective of both our fears and desires. For example, swimming close to sharks would be an obvious fear for most people, whereas winning the lottery is what a lot of folks would love to happen. Read the rest of this entry »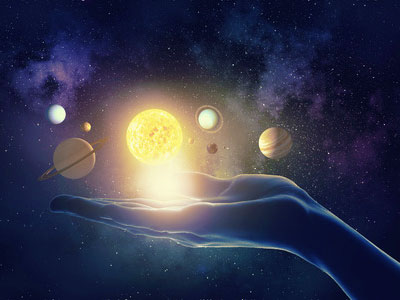 We have all checked a daily weather forecast at some point. Will it be hot or cold? Will it rain or snow? But did you know that a different kind of 'weather' affects our lives just as much? We are also impacted by the 'cosmic weather' – the astrological positions of the planets and other heavenly bodies, as well as related phenomena, such as eclipses, solstices, equinoxes, aurora borealis (Northern Lights), solar flares, and meteor showers.
The recent "Great American Eclipse" was a large-scale event which many people observed. But what did it mean? Solar eclipses represent the shadow of the Moon (the yin, feminine, and intuitive) obscuring the Sun (yang, masculine, and logical). An eclipse therefore creates the illusion of twilight in the middle of the day. From a metaphysical perspective it is the perfect time for added insight, previously hidden knowledge, and inspired ideas. Read the rest of this entry »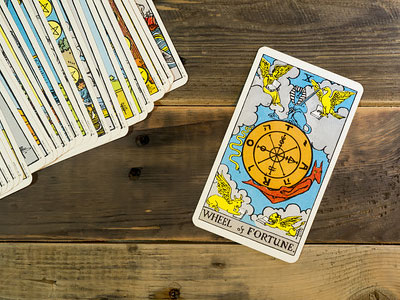 When reading Tarot, it is always important to consider each card in the context of the spread. Each card has differing meanings, based on the context of the whole.
For example, the Three of Swords represents heartache, sadness, loss, grief. However, let's say it comes up along with the Chariot, which represents moving forward with success. Together, the context of these two cards might shift to something like moving beyond sadness. However, this meaning might shift even further, based on the rest of the cards in the spread.
Reading single cards only, would be like trying to convey a message with just one word. Instead one should think of a Tarot spread as representing a full sentence, while each card represents a word in that sentence. Read the rest of this entry »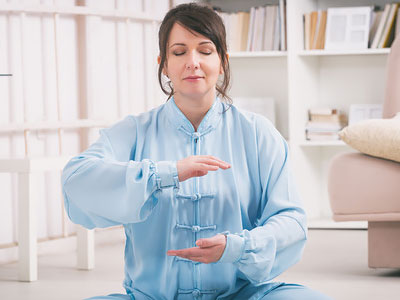 'Forgettery' is a game we all engage in from time to time. We see this game played out in relationship dramas, career concerns, or even just in a sense of generalized anxiety. It occurs when we forget who we really are, and find ourselves out of alignment with our Soul.
It can manifest in feelings of not being enough – a victim, not smart enough, being broken, or disconnected and separate from others. In my daily Tarot card draws, it often comes up for me as the Star card reversed, or maybe the Eight, or Nine of Swords.
So what happens when we find ourselves here? The first step out is to recognize what is happening. Once we can acknowledge this 'not-so-good' feeling, we can sit with it for a while and then recognize that this feeling is coming from our thoughts… and thoughts can be changed. We are deserving and worthy of everything we desire. Why not? We can heal this. Read the rest of this entry »