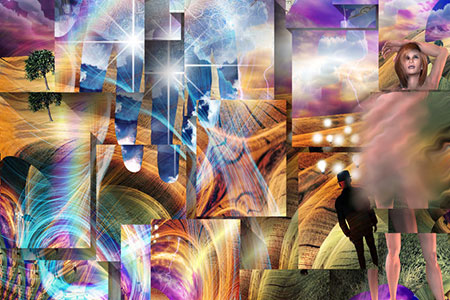 Life spins on its axis much too fast to form an accurate opinion, but not fast enough for you to interpret logically. The life you 'think' you are living exists in a realm of unimaginable chaos, before you are capable of determining what you decide it means.
Although you invest quite a bit of time, effort, energy and mind power trying to decipher the meaning of various circumstances, the actions of people, the cohesiveness of situations, the illusive events have changed position before you arrive at any coherent explanation.
Formless and indistinguishable the oblique form filled existence rests in motion, but not in the way you comprehend the word 'rest.' As it continues to spin, the tilted, spiraled form materializes into something of a more recognizable shape, but the something you observe is totally different from what it actually is. By the time your eyes fixate on any semblance of it, it has already moved into another direction altogether.
You cannot look at it directly and live. You see it out of the corner of your eyes as it passes by. How foolish is your mumbo-jumbo chatter! You are altered by the mere observing of it, as it is altered by your observing. It spins, it spins, and it spins. While at the same instant, you are spun into the identical manifestation you are so futilely trying to examine. Life, you along with it, constantly attracts, repels, repositions, then releases.
The form created and destroyed in the process reveals its circumvented boundaries as the life you perceive you exist in. In other words, life is so distorted and smeared from your mere observation of it through your eyes alone that the comments you make regarding 'your circumstances' are no more than an "…empty brass clamoring symbol…"