The Rosary Reflections Of A Spiritualist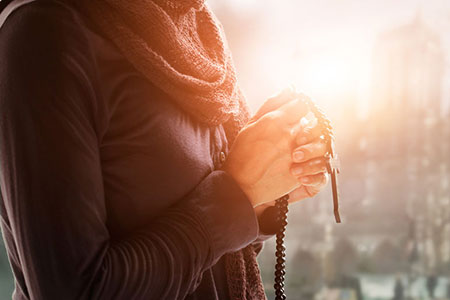 Some of us are merely going through the motions every day, doing what we think others expect of us, doing the 'should' we put on ourselves. Living life by rote. I equate this to saying prayer beads. It becomes almost an unconscious act. So, when something unexpected happens, like the coronavirus pandemic, and we are forced to slow down, or even come to a complete halt, we are suddenly confronted with our own truths.
For some of us, the only things that then come to mind are all the things that we perceive we have done 'wrong' in the past. We feel guilt over all the people we have disappointed or hurt. We mourn the relationships that did not go the distance. We obsess over the skeletons in our own personal closet.
When we get into this mindset of shame and regret, it affects our immune system and our well-being. The 'poor me, bad me, angry me' turns into a very 'toxic me.' When the world seems to be falling apart, the mind does a life review. We let the fear and regret creep in. What if there really is an afterlife, even if you have always said, "I don't believe in heaven and hell." The 'what if's' in life can really do a number on us. When faced with uncertain times it is only natural to think about our own mortality, and our failures and past mistakes.
One thing I find that really helps, is to reflect on the good memories. Let the unpleasant ones come and go, and not reside in your mind. Thoughts are such powerful things, especially when you are still reflecting on things at 3am in the morning, while you should be sleeping. These worries and bad memories are usually things we can't do anything about, even if we desperately want to.
When things seem out of control, flip the switch. Reflect instead on all the things you have accomplished. Think about things in your life that have brought you great joy. Times that even one person said good job. People that have said "I hear you," and "you matter to me."
I believe in prayer. It's the best way we have to draw strength from heaven ~ Josephine Baker
Reflect on your own personal growth. Believe it or not, but one thing I reflect on is mastering my smart phone, so I don't have to call my grandchildren every five minutes to help me!
Reflect on your spiritual growth. Our faith does carry us through some of our darkest hours. It doesn't matter how large or small the accomplishments are. When you were a baby taking your first bite of solid food or taking your first step, it was a huge accomplishment to your parents. It was important enough that my parents made it part of recorded family history.
Just try it when your mind wonders to undesirable thoughts. Reflect on even one 'feel good' accomplishment that you have achieved in your lifetime. It will make you smile in your mind!
Reflect on all the things you may have done that helped another person feel better. Yesterday we had a drive-through parade. It was to celebrate the 100th birthday my best friend's mother. My friend was so sad. She originally had had a big party planned with people flying in for the special occasion. Due to social distancing, those plans had to change.
Despite it all, relatives, friends and classmates got together, decorated cars and made signs. They even had a police escort and a fire truck for the 'grand dame!' For me it was more memorable than the Macy's Thanksgiving Day Parade. It was such a joy to see. It even made the local nightly news. This event will bring a smile for everyone that participated for many years to come.
You have been armed with positive thinking that permeates each and very thorny bush within the garden of life ~ Catherine Pulsifer
During this time of the Covid-19 pandemic, many people are having a hard time to sleep. For me, this scenario is a time to turn to prayer, with prayers that I can recite by rote. I can only share my own strange experience. My mind has reverted to prayer of my youth. Although I am now a spiritualist, I was raised in the Catholic faith. My mind still finds comfort in saying the Catholic rosary at night by rote. It brings me comfort, holding on to something tangible and familiar in these uncertain times.
Many spiritual people use beads to connect with their higher self. You can even find books to make your own. It is not about what kind or color, it's about choosing beads that feel right to you. If you choose to use prayer beads, find ones that feel right.
My childhood prayers help get my mind into an altered state. Find something that works for you, like a mantra, repetitive prayer, affirmation, inspiring visualization, or positive thought pattern. It will help to calm your mind. It can train your mind to know when it is indeed time to let go, relax and fall asleep. 'Counting sheep' is not such a silly idea, after all!

About The Author: Elizabeth

Elizabeth's talents go back several generations. She found her own gifts and embraced them at an early age, recognizing the difference between herself and most others around her. She's since honed and mastered many metaphysical practices, providing hypnotherapy, Psychic Mediumship, Mysticism, and Hypno-Reiki to her clients in Maine, and in areas around the US and in Canada, where she travels. A lover of pets, they are her greatest teachers and these unconditionally loving creatures often chime in on a reading in addition to the Angels, Guides and loved ones who provide resolution and answers for each of her clients. Elizabeth is also an author with much spiritual wisdom to impart and is currently working on a book. If you'd like to be a recipient of her unique Psychic Wisdom, find peace and receive answers that will also benefit your highest good, you can reach Elizabeth at Psychic Access.