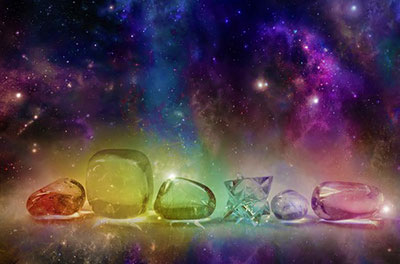 You don't have to be a geologist or gemstone expert to experience the magic of working with crystals and gemstones. Many of us light up when you mention the magic of crystals and gemstones, and we usually have a story to share about a particular stone we own or carry on us for specific intentions, healing, added strength, or protection.
How do the crystals and gemstones work for you? Well, in many magical ways. When you're drawn to a particular stone, whether it's the color, texture, shape, or other qualities, the attraction you feel to it is the first stage in the magical process. This attraction is actually the stone's way of calling you to it, to make contact. Sometimes a stone can be gifted to you by someone, or one way or another just makes its way into your hands. The circumstances upon which you found it, or perhaps how it found you, is just the beginning of a new and magical relationship. Read the rest of this entry »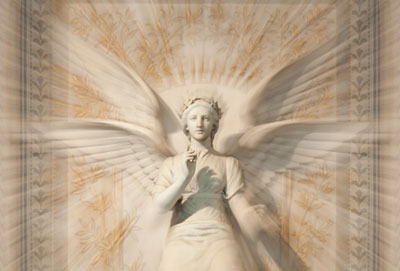 The archangels are extraordinary beings with extraordinary powers. They are here to help us on this challenging planet. The word angel is from the Greek aggelos and means 'messenger.'
We are able to draw from their gifts and powers to help us on our path and during the most difficult times in our lives. All of the archangels are healers. They come as master surgeons to repair our bodies, and to help us tap into our higher selves. They are reminders that we are never alone.
The belief is that most of them have incarnated on Earth in the past, and they therefore understand the inner workings of Earth's dimensions. Some angels have never incarnated on Earth, but feel an attachment to those of us in the human body and wish to help guide us. Read the rest of this entry »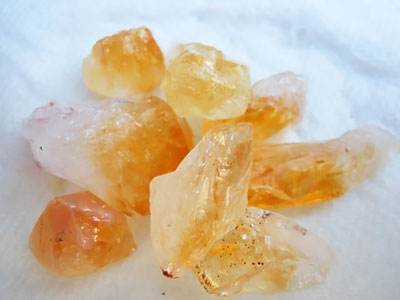 I looked forward to doing this essay because, honestly, I have never been drawn to Citrine. I wanted to learn more about it.  So, here is what I found.
Citrine is a variety of Quartz. It can be pale to golden yellow, to honey, even brown.  It can also hold rainbows or sparkle inclusions. The name stems from the French word citron which is lemon. It was used as a gem in Ancient Greece, however most of the Citrine sold today is actually heat-treated Amethyst or Smoky Quartz. Natural Citrine is pale yellow. Heat-treated Citrine and natural Citrine are said to have different uses and metaphysical properties.
It is traditionally known as The Merchant's Stone, because it brings money to a cashbox. In fact, this is one reason I have come to like this stone. This is a stone of success, abundance, prosperity, and attraction of wealth. It also encourages generosity and sharing. It helps with acquiring fast money. We can carry it to bring money and to stop the extreme outpouring of money. Read the rest of this entry »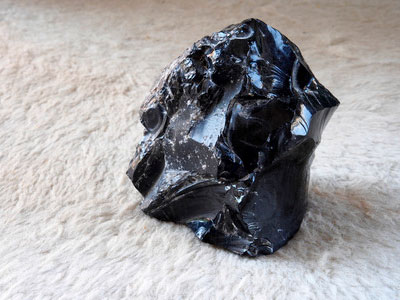 I remember when first I came into contact with Apache Tears, a kind of Obsidian, when I was just a child. I loved it! Its translucent quality was captivating. At the time I did not know the metaphysical properties of this stone; all I knew was that it had a dream-like quality to it.
Obsidian is molten lava that has cooled very quickly. It is a type of volcanic glass and it is found worldwide. The ancient Aztecs made flat mirrors from Obsidian for use in divination. Obsidian may open a person to the gift of prophecy. Legend has it that Dr. Dee, a great mage and alchemist, hired by Queen Elizabeth I, may have used an Obsidian mirror in lessons of scrying. Read the rest of this entry »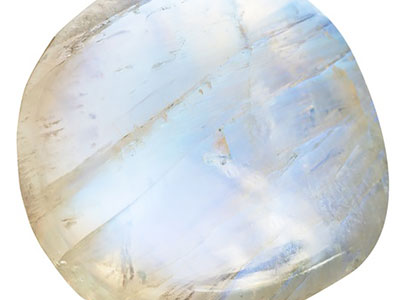 I discovered Moonstone when I bought it online. it was set in a ring and I instantly fell in love. Now, I use it in the jewelry I make whenever I can.
Moonstone is a very powerful stone. According to Crystal Vaults, Moonstone is traditionally thought to lose its silvery luster if the owner continues to hold onto anger. In the Orient, the Moonstone was known as a "phenomenal gem" that should be worn on Mondays.
Scott Cunningham writes that the mythical deities associated with Moonstone are Diana, Seline, Isis, and all Luna Goddesses. He notes that, according to legend, Moonstone is more potent during a waxing moon and less in the waning moon. Moonstone is receptive and draws love, and you can wear it or simply carry it. Read the rest of this entry »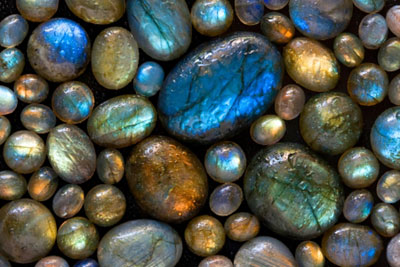 Labradorite is my favorite stone. It is powerful and beautiful. We can look toward Labradorite when we need a powerful protector. It creates a shielding force through the aura and it strengthens natural energies.
Labradorite protects against negativity and gives safe exploration into alternate levels of consciousness. Labradorite can also help with visionary experiences from our past or future. Wearing or carrying Labradorite helps facilitate one's magical powers. It helps the mental and intuitive capabilities of clairvoyance and telepathy. It also helps us to communicate with Spirit Guides and to access the Akashic Record. Labradorite also helps us do psychic readings and remember past lives. Read the rest of this entry »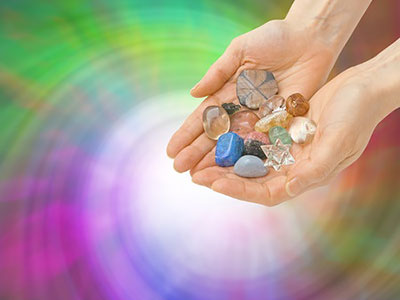 Crystals and gemstones, as well as metals, are mostly worn as ornaments – for beauty, fashion and status. Some wear them for the purpose of mystery, symbolism, or psychism. But on a deeper level, they are spiritual allies which, along with our intent, and focus, help to protect and heal our body, mind and spirit.
Diamond engagement rings is a great example. It is said that one must never buy a diamond for oneself. Diamonds are a protective stone, bringing luck, happiness, wealth, and protection against adversity. Buying a diamond for the self, has a negative effect on the wearer. Precious and semi-precious stones and crystals should be chosen with care.
One popular way to become familiar with working with them is to wear your birthstone. Birthstones correspond metaphysically with a person's astrological sign, the birth month, the planet that rules the zodiac sign, and the angels and spirits that correspond with that planet. It is no wonder then that wearing a birthstone enhances the life of the wearer, causing the spirit to resonate at a higher level. This helps a person to achieve the highest attributes inherent in the horoscope, and protects against adversity. Read the rest of this entry »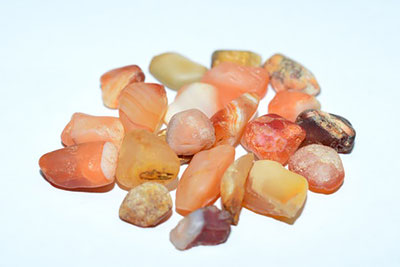 Carnelian is a part of the Agate family and a form of Chalcedony, the gemological term used for all types of quartz in cryptocrystalline form. It can be red, orange, and red-brown and has both the properties of Agate and Chalcedony.
Agate is effective in balancing the yin and yang energies. It stabilizes the aura and gives a cleansing effect. It transforms and eliminates negativity. Agate further increases analytical abilities and precision and awakens natural talents. It creates inspiration from, and connection with entities in the spirit world.
Chalcedony is part of the quartz family. It is traditionally used as a sacred stone by Native Americans and is good in balancing energies of mind, body, emotions and spirit. Chalcedony represents good will, while decreasing hostility, sadness, or depression. It also increases receptivity, responsiveness, and giving. Read the rest of this entry »