The Magic Of Crystals And Gemstones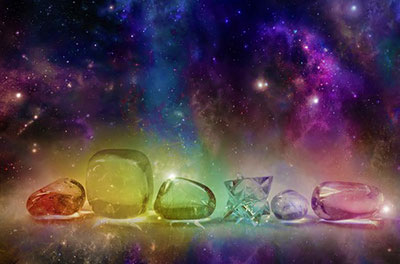 You don't have to be a geologist or gemstone expert to experience the magic of working with crystals and gemstones. Many of us light up when you mention the magic of crystals and gemstones, and we usually have a story to share about a particular stone we own or carry on us for specific intentions, healing, added strength, or protection.
How do the crystals and gemstones work for you? Well, in many magical ways. When you're drawn to a particular stone, whether it's the color, texture, shape, or other qualities, the attraction you feel to it is the first stage in the magical process. This attraction is actually the stone's way of calling you to it, to make contact. Sometimes a stone can be gifted to you by someone, or one way or another just makes its way into your hands. The circumstances upon which you found it, or perhaps how it found you, is just the beginning of a new and magical relationship.
Many Pagans and other people in the metaphysical community use crystals and gemstones in their magical and spiritual practice. There's practically an endless list of stones you can use, for just about any need, and many of these stones actually make us feel good ~ Patti Wigington
There are many metaphysicians who believe that the crystals and gemstones are our ancestors or ancient beings, or life force crystallized from history. Some people believe that certain stones you come in contact with are stones you had in a past life. They could be chunks of land or rock that surrounded you in former lifetimes here on Earth, and are showing up in your life today as a friend or ally. It is pretty cool to think about! Imagine a stone that you have now, you also had with you before, from another time. Would you still see that stone in the same way when you looked at it?
Researchers and historians hypothesize about pre-Christian cultures and civilizations who considered the standing stones to be the old wise ones, or the ancient gods. There are unusual theories about sites like Stonehenge, and how those large stones made their way to their destination, as there is still no logical explanation. Some say Merlin the Magician brought them to Wiltshire, England from a town in Wales called Maenclochog. The many standing stone sites across Ireland and Scotland draw thousands of pilgrims each year who come searching for a lost time, and to touch the stones of magic and mystery in order to connect with an ancient past that somehow lives on in their memory today.
In modern times, crystals and gemstones are readily available from retailers and wholesalers around the world. Business owners pride themselves on the sources and areas from which the stones come, such as Brazil and other sacred sites globally.
Some people are drawn to the stones in their raw form, where they are rough in texture, while others like polished stones. Of course, much of this depends on what you intend to use the stones for. If the stones are being used for jewelry pieces, such as pendants, a raw or rough stone can be easier to wrap in copper wire, but maybe a gemstone energy healer might prefer smooth, polished stones to use for chakra healing for a client. This is a process where the patient lays on a massage table and stones are placed in alignment over certain chakras to activate meridian points in the body for healing and spiritual growth.
Mystical stones have embodied the hopes and fears of seekers for thousands of years. Some are regarded as special due to their unique physical appearance while most appear relatively ordinary. Nevertheless, each has been imbued with extraordinary attributes ~ Andrew Gough
Another incredibly magical and fun way to work with crystals and gemstones is to set up crystal grids. Grids come in all kinds of sacred geometry patterns that you can easily find online. The most popular of these include the 'flower of life,' mandalas, healing and abundance attracting grids, and so forth. This is the fun part where your intentions and creativity come to life manifested in the physical plane.
Going online and searching for crystals and gemstones is one way to find them, another is to visit your favorite gemstone shop or metaphysical shop in town. When you find yourself drawn to a stone or two, be sure to look up the magical properties of that stone once you get home. You may be pleasantly surprised to see how the definition of the stone's uses fit with whatever you may going on in your life, or help draw to you what you need at that time.
Crystals and gemstones are powerful, but the true magic always resides within you.

About The Author: Isadora

Known as The Psychic's Psychic, since 1998, Isadora has read for thousands all over the world, her impressive list including clients from the Obama administration, Fortune 500 CEO's and notable names in Hollywood. Her detailed (Gemini) accuracy is nothing short of astounding, with her ability to see people at the Soul Level and clearly answer questions on a wide range of subjects, from relationship matters, business decisions, to past lives, etc.—anything that requires clear answers and pin-point insight. She has the ability to identify hidden patterns that run beneath your current situation, providing you with information to positively change your future. If you'd like a reading with this compassionate, straight forward, laser-accurate and dedicated Psychic, you can find Isadora at PsychicAccess.com.