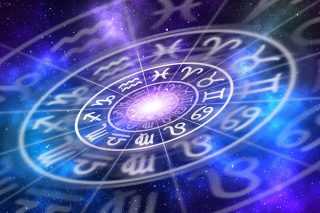 The only significant astrological event on the agenda this week is Neptune turning direct on Saturday, after a five month retrograde cycle. Since it's a subtle aspect, it should pass almost unnoticed! Although Neptune is a karmic planet that tends to move in the background, it has a higher purpose to direct us spiritually, allowing us to connect with our higher self, as well as our magical powers. As it shifts direction, this is a wonderful time to explore our intuitive, psychic and mystical gifts.
It may feel like we're running in circles under today's Pisces Moon, but as it grounds itself in Aries tomorrow, we'll have three days to gather our wits about us, and prepare for Thanksgiving and the holiday weekend. We'll greet the traditional 'Black Friday' shopping rush under a Taurus Moon, which bodes well for finding great bargains or regrouping after over-doing it on Thursday.
Our best bet this weekend is to focus on intellectual and social pursuits, as the Neptune shift on Saturday and the Gemini Moon on Sunday encourages thinking and dreaming big!