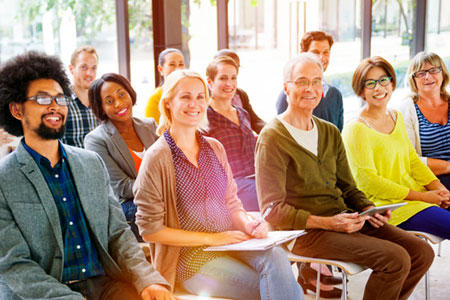 I am planning to take another psychic development class this May, as well as teach a similar class in the same month. But why would I need to take such a class, while I am already working as a professional psychic medium?
The answer is simple: if I learn one new thing from another spiritual teacher, that can be passed along for the benefit of my clients, it is definitely worth my time and effort. And, of course, some of us simply enjoy being lifelong students!
It doesn't matter the length of time a person has been a professional. A little tune-up is always a good thing. Taking lots of different classes usually boost a person's confidence.
Yes, I do believe you can teach 'old dogs new tricks.' It is always nice to meet new colleagues in the metaphysical field and have inspiring discussions on ways to improve the standards and professionalism of our work.
Whenever my daily work becomes a little lackluster, I always know it's time to 'get out of the water' and take a class or attend a seminar or workshop. It keeps me excited about the work I do. It is great when you learn a new technique or method that can improve your service to others.
Professional psychic mediums always want to better the level of their work. Yes, no matter how 'good' one is, there is always another level to reach. Always looking for a way to validate evidence from spirit and confirm that indeed life goes on after our spirit leaves the physical body.