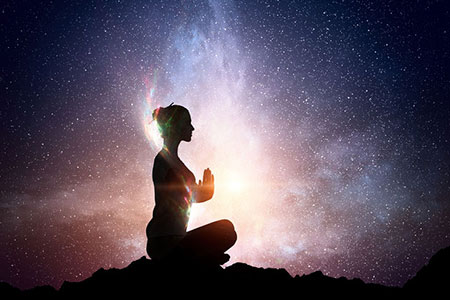 When I was a Yoga teacher, I often had students invite me for dinner or a social visit to help them clear the energy in their home. I would always remind them that, while I may be able to improve the vibration of their home and clear any negative energy, the results would only be temporary.
Attaining an improved energy frequency in this way, of feeling light, happy, hopeful, and positive, can be like a 'quick-fix crash diet' to get some weight off quickly. The instant, easy results may motivate one to lose weight more permanently with a sustainable, sensible nutrition plan and fitness routine, but it will never be a long-term, lasting solution on its own.
I have been practicing energy work and raising my vibration since I was teenager. My practice intensified when I began  to study Kundalini Yoga in my 30's.
Raising one's energy vibration is a basically a process of expanding and strengthening the aura – our personal energy field. Various energy influences can cause our aura to retract and become diminished, for example as we grow older, or when we are traumatized in childhood. The aura 'pulls in' to protect us, much like someone might hunch over when they are being physically attacked.
Poor posture is often the result of the fourth (heart) chakra and the aura retracting to protect the self. Our energy vibration is a combination of the aura and the chakras or energy centers. When you realign and balance the chakras, you basically 'take out the psychic trash' and your vibration is heightened.
Having a consistently high vibration, however, can come with its own set of challenges. For example, I cannot wear a watch, for because my vibration tends to make them break down or stop moving. I often have problems with machinery and technology in my environment. I have also been told that went I walk into a room, the vibration changes.
Just like when a really negative person can bring everyone in down, or even make you feel ill, a positive, high vibration can make a room light up. People literally get high off the energy. The feeling is similar to falling in love or after one has given birth to your child. A raised vibration is a kind of low-level euphoria anyone can achieve.