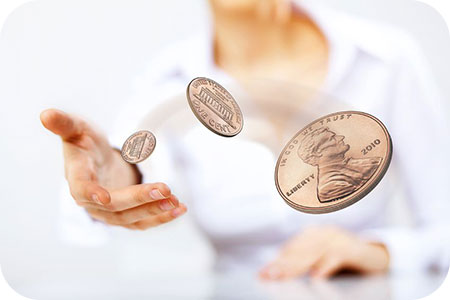 I can't believe it will be five years since my dad's passing. But he does make sure to let me know he is watching over me from the other side. I had an interesting visitation when I was talking about my dad to a friend of mine some time ago.
She lost her husband over a year ago. We were comparing notes about how difficult these men were to be with when they were in this life, and in some ways how they taught us about men in general. Later, when we were walking out to our cars in the parking lot, a penny flew by my feet! Both my friend and I were astounded! I picked up the penny and it was coined in 2013 – the year my dad died. It was a shiny new one too.
After I picked up the shiny new penny, I jokingly asked, "You couldn't have sent me a dime, or a quarter?" Then I heard his response clairaudiently, "Okay smarty pants!" I also smelled cigarette smoke, which is always an indication he is around. The man smoked three packs of cigarettes a day, which resulted in lung cancer, congestive heart failure, diabetes and ultimately his death.
Posted in

Afterlife, Healing, Mediumship, Paranormal Phenomena, Psychic Phenomena
|
Tagged

Afterlife, clairaudience, crossing over, death, evidential mediumship, forgiveness, haunting, Healing, life lessons, life review, medium, paranormal, Paranormal Phenomena, signs, spiritual messages, synchronicity, The Other Side, visitations
|
Leave a comment