Romancing The Zodiac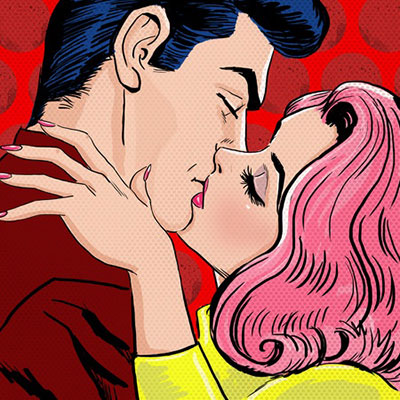 For many years I wrote a weekly horoscope for a local newspaper. It was a fun and funky paper with a demographic core group of loyal readers aged 23 to 33, and a 70% female to 30% male readership.
The editor asked me what type of horoscope I thought the newspaper needed, given that the male readership ratio was so much smaller compared to that of women. I told her that we needed to do a horoscope for males and females of each sign. We needed to break down the walls between men and women, because the newspaper's advice column seemed to suggest neither sex had a clue about what was going on in the others' head.
My plan was to write the horoscopes combining elements of Astrology and Numerology, but the meat and potatoes, the predictions within each horoscope itself, would come from me using a different Tarot deck each week. I did an overview for the week ahead, one for males and one for females, in  which lot of the astrological elements were taken into account. This was followed by a male and female horoscope for every sign of the Zodiac.
She's a woman, you're a dude. You're not supposed to understand her. That's not what she's after…. She doesn't want you to understand her. She knows that's impossible. She just wants you to understand yourself. Everything else is negotiable ~ Neal Stephenson
Writing a weekly horoscope is a lot of work. It requires constant research, especially for the correct astrological aspects to be taken into consideration and applied correctly. Furthermore, I was essentially writing double the horoscopes every week! I would take a break from it for a day at the most, before I would be back researching and picking a deck for the week. The writing was followed by the inevitable proofreading and editing. As I recall I had to stick to under 2,000 words, so my horoscopes eventually read and ran like finely tuned horses. Sharp as a tack they were, if I do say so myself.
The response was absolutely tremendous. It was as though someone had lit up the switchboard and every single line was ringing, and if they weren't ringing they were on hold. Reader comments started coming in fast and furious, and pretty soon I started having to answer questions that the readers were writing in for me to answer. "Why does my girlfriend do this?" Or, "why is my boyfriend so emotionally unavailable to me?"
It was clear to me that men and women do not understand each other. We all misread signals, get hurt feelings for little to no reason, create assumptions based on our lack of communication and then create entire stories based on these assumptions. Most of all, we all refuse to simply be truthful with each other about our feelings, and we really do not like to listen to each other. Just listen, not while thinking of how or what to reply with, but just listen. It truly makes a world of difference if we'd just listen. It blew my mind and I wondered how we ever manage to get along long enough to even procreate!
I learned that men are just men. They are not superheroes. Although for the right woman they will move mountains. If you're a female and you're having to ask the man in your life where you stand, then it's time to start walking, because you don't "stand" anywhere with him – at least not where you would like to be.
Male and female represent the two sides of the great radical dualism. But in fact they are perpetually passing into one another. Fluid hardens to solid, solid rushes to fluid. There is no wholly masculine man, no purely feminine woman ~ Margaret Fuller
And men should show some consideration towards their woman. She is your woman, not your drinking buddy or your sparring partner. She is your best friend, your wife, your lover, your girlfriend or the mother of your children. Show her that extra little bit of attention. Take the time to go to an actual flower shop for a bouquet, instead of buying her a single, cheap rose from the corner store. Believe me she knows the difference. You might say, as a man, "Well it's just a flower, what is the big deal?" The big deal is that it shows your woman she is worth the effort to you. So go a little bit out of your way for her.
Men want to be respected by the woman they love, and women want the man in their life to love them, to cherish them.
A woman must also accept she is not going to get the same response from her man, boyfriend or husband, as she would from her best girlfriend or from her mother. Recognize that his perspective is a masculine one and while you may not agree or even understand it, it doesn't make it any less valid.
The one thing we all have in common, males and females alike, is that we all just want to be validated. No matter what sign we are, no matter if the Moon is full or not, or if Mercury is in retrograde, we all seek validation, acknowledgement. A little less judgment and a little more acceptance of each other's differences will make a world of difference.

About The Author: Asherah

Asherah is a natural born psychic empath born and raised in Kingston Jamaica. An ordained Reverend and High Priestess, Asherah can easily tap into your real truth and help you to see clearly, releasing attachment to outcome by simply focusing on where you are now. Using tarot, numerology astrology and more..you can learn how to communicate your needs today! You can get a psychic reading from Asherah at PsychicAccess.com.