Understanding How Men Fall In Love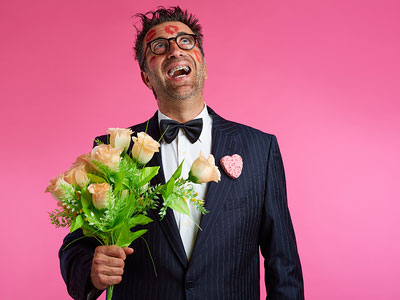 What makes a man fall completely in love with you? Head-over-heels in love? Well, a man will fall in love when you give the signals that you are really looking for and ready for lasting love.
Maybe it's the timing, or certain qualities he is looking for, but I feel that it is mostly about chemistry and connection. The way that you look into his eyes, and the way you listen to him as if he were the only one in the world, the way you make him feel, and the feel of you in his arms.
Some men go for personality, and some like the intellectual side of you, the way that you smell, and the feeling that he can't live without you, and that you are a part of him.
A man who wants to make a relationship work will move mountains to keep the woman he loves ~ Greg Behrendt
Men and women also want the same things. They want and need to feel important to each other. A man will bond with a woman when he feels successful that he can make her happy, when he feels accepted and appreciated. Understand that when he knows this, he will be yours.
There is this idea that men like woman who 'play hard to get,' that is really not true. What they really like is a woman who is secure, has a great sense of humor and who has a positive attitude and is attractive to him. Basically, they like a woman who has a life!
However, men want to know that you test them to see what they are made of. If you are the one who is always available each and every time you get a text message or phone call, and changing your schedule to fit theirs, it shows that you are giving yourself to them without checking whether or not they are indeed worthy of you. Instead, make sure you focus on your life, that is what's most important. Fill it with things that you love to do.
You should always be excited in meeting someone new, just make sure that your own life comes first. That way the guy will know what an amazing woman you are and he will want to be part of that life.
Men do not consider themselves to be in a relationship until several months of exclusive dating has been established. If he is able to convince the girl and make her fall in love with him, he will be a happy man. That is when he likes where the dating game is heading – once a girl is truly in love with him. Only then will a man seriously start to consider if he wants to have a relationship with her.
Men learn to love the woman they are attracted to. Women learn to become attracted to the man they fall in love with ~ Woody Allen
Once she is in love with him, he takes his time to weigh the pros and cons, and asks himself does he really love her? Is she the woman he wants and needs? When he is convinced of this, he enters the final stage where he allows himself to also fall in love with her.
Understanding how men fall in love can sound complicated, but if you want to win his heart, and make him want you, always remember to make him work for your affections and you will truly have a most beautiful and rewarding relationship.

About The Author: Andrea Grace

A Psychic, Medium and Paranormal Investigator living in New Jersey, Andrea has been a top featured internet psychic for many years. After a near-death experience in which she traveled to the other side, she returned to fulfill her calling to help others with her new amped up skills! Her ability to help clients recall their past lives has helped many to understand where they're headed in the future. With the help of her Spirit Guides and Angels, she gives clarity on any issue, always respecting her clients, while telling it like it is. If you'd like an accurate reading with a caring, kind, and accurate Psychic and Medium, you can find Andrea at PsychicAccess.com.