What Makes A Man Fall In Love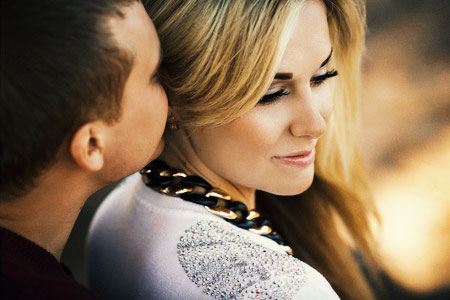 What makes a man fall in love? Could it be the timing? Is it certain qualities that he is looking for? Or is it just basic chemistry? I believe it is the total package that you bring to the table – the way you make him feel and the happiness that you give him when your around him.
Men bond with women when they feel successful in making them happy. He is looking for a woman with a smile, someone he feels connected to. He wants to feel attraction and passion. He wants to feel accepted and appreciated by her. When he feels that he knows he can make you happy, he will want to be with you.
A man will also fall in love with you when he feels that you're giving him signals that you are truly looking for lasting love. It is okay to be a little vulnerable around a man, letting him see who you are. Men want to feel that you believe he is worthy of love.
Men also want to fall in love with someone who is ready to share and be receptive to them. Sometimes men are not as confident as they would like to be, so the more open and confident you are will make it easier for him to respond to what you are looking for in a relationship.
When he spends time with you and sees that you are a kind person, affectionate, fun and easy-going, he will begin to realize exactly what you mean to him. Then he won't want to be away from you.
A good man will want you to shine. He wants you to be your amazing self. A good man loves to show off his happy, intelligent, amazing, powerful woman ~ Anastasia Netri

Finding a person who fits into his life is important. He night pursue a few high-maintenance women, but they will not be the women he marries. When a women demonstrates a willingness to say yes to new adventures and the openness to experience new things, be it certain food, or sports that he may be involved with, or even places that he likes to go, will always make a man fall hard. It's not like you have to be interested in everything he likes, but at least you're willing to try.
There is no emotion more mystifying than love. It is a complete mystery incapable of ever being solved. When a woman falls in love, it's quite swift and emotional. When a man falls in love it's different. Love does not kick in that quickly. For men it's the attraction first. His own preferences are paramount at first, such as her face, or her smile, eyes, or physique. Infatuation is always first.
If she reciprocates his advances, then he enters into the attraction stage of love, and if she shows interest, or if he assumes that she is into him, he will dig deeper and keep pursuing her. Eventually the way she thinks, her smell, the mystery of her, will tell him that he cannot live without her, and that he will want her to be part of his life forever. Most of all he will fall in love with her heart.

About The Author: Andrea Grace

A Psychic, Medium and Paranormal Investigator living in New Jersey, Andrea has been a top featured internet psychic for many years. After a near-death experience in which she traveled to the other side, she returned to fulfill her calling to help others with her new amped up skills! Her ability to help clients recall their past lives has helped many to understand where they're headed in the future. With the help of her Spirit Guides and Angels, she gives clarity on any issue, always respecting her clients, while telling it like it is. If you'd like an accurate reading with a caring, kind, and accurate Psychic and Medium, you can find Andrea at PsychicAccess.com.