The Spiritual Symbolism Of The Peacock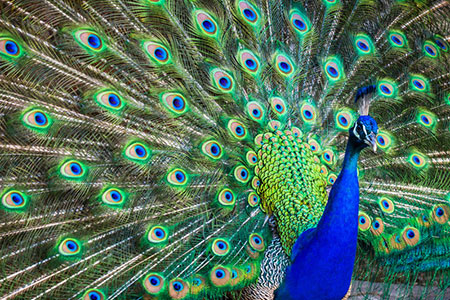 The masculine energy of the peacock emanates self-assurance and confidence, and also represents pride and vanity. In the spiritual context, masculine energy is understood to be the active and doing part of nature – it is the force that compels us forward.
Given the uncertainty we are currently facing our world climate, we could all call on the energy of this spirit animal to provide us with the courage to step forward in new ways.
The peacock was the first bird to every appear in my artwork. Each time I was drawn to paint the peacock, I experienced major changes in my life, which involved either moving home or relocation, or taking another step to progress in my career.
The peacock (Pavo cristatus), also known as the Indian peafowl, has a long tradition of spiritual symbolism in many cultures and belief systems. The peacock (in contrast to the peahen) is known for the beautiful array of iridescent colors in his tail feathers, featuring the well-known mystical designs that look like eyes. Some of the key spiritual messages of the peacock include:
Confidence
As the vision for the peacock came to life on that first canvas, I gained a renewed sense of confidence with my own artwork. He reminds us all of the need to feel free, joyful and confident in how we express ourselves. When we have appreciation for our abilities, it gives rise to self-confidence.
So, if peacock has strutted into your awareness lately, reflect on the areas of your life where you need support or reflection, and remind yourself of your past achievements.  When we are faced with big life changes, such as career changes or relocating, faith, courage and confidence in our choices is important to move forward.
Mindfulness and meditation time also helps if you are worried about being over-confident in sharing your knowledge, it will help to maintain balance while you embrace the confidence and wisdom of the peacock.
It dances today, my heart, like a peacock it dances, it dances. It sports a mosaic of passions, like a peacock's tail. It soars to the sky with delight, it quests ~ Rabindranath Tagore
Integrity
The peacock encourages us to 'walk the talk'. We must acknowledge that there will be times when we are called upon to speak our truth, and be there to guide and inspire others to stand in their own power.
When we speak from a place of empowerment, authenticity and integrity, we inspire and encourage others to do the same. Honesty with self and others is the foundation of integrity. Make sure you honor your feelings and values as it helps one to 'walk the talk.'
Clarity
The mystical eyes on the feathers of peacocks are symbolic of clarity within, or inner vision. We all have a desire to clearly see our journey ahead, especially when we are at a crossroads or turning point in our life.
Dreamwork, meditation, and keeping a journal, are all wonderful ways to hone your visions and clear mental thoughts to bring clarity to your mind.
Trust
When we are able to trust in our own integrity and discernment to guide us, we can live with more conviction and certainty in our ability to adapt to life changes.
If you are feeling stuck, reflect on the times in the past when you've trusted your own judgment and felt the rewards of the decisions you've made.  Draw on this for inspiration to move forward. Others also trust us when we speak with conviction about what is important, so don't be afraid to share your passions with others.
The peacock is associated with rebirth and resurrection, as is the Phoenix who was risen from death and reborn again. The peacock is a perfect reminder that you can rise again no matter what you have been through ~ Joshua Zitting
Romance
The male peacock attracts his mate based on his ability to dance and displaying the beauty of his feathers. If you are seeking love, do not be afraid to show the beauty of your own true colors and gifts. 'Dance' like nobody is watching, and remember, it's not about being like others, but rather standing in the depth of our own personality and truth.
If you are feeling rejected, or concerned about finding a life companion, take some time out to focus your life on things that bring you joy and personal fulfillment. Seek to find yourself first, before you attempt to find another. By doing so, you become more magnetic and it is more natural for you to draw to you the right people and companions.
Reflection
During meditation the peacock has asked me, "Why do you deny your own light?" So, to honor the gift of his messages I embraced the nudge to nurture my meditation practices and time for inner reflection and self-care.
When we take time for this part of our life, it is easier to face life choices and challenging times. We feel more balanced and it is easier to speak or guide others with our wisdom. Through reflection and observation we can draw on the wisdom of the peacock, and apply it to our own life.
Whenever you see the peacock may you come to understand what part of your journey he symbolizes for you. May his wisdom and spiritual symbolism bless your day.

About The Author: Cheanne

Cheanne's Divine gifts came to her in her early 20's, when this young Australian accountant felt suddenly compelled to take a creative art class. On the blank canvas, she saw a face that moved her greatly, and she painted it. The brush took on a life of its own, as she painted the divine presence of Buddha. We are not alone, she suddenly knew, and that feeling has stayed with her ever since! Messages and healing have come through her art work and from her Intuitive sessions that connect clients with spiritual guidance to navigate through life's changes and challenges. She also helps clients tap into and experience their own unique gifts. Since 2013, Cheanne's helped business owners achieve their creative visions, she's provided clients with portraits of their Angels and Guides, and she's channeled messages at New Age Festivals, Expos, from her local practice room, home studio, via phone and internet, and through the dozens of group workshops and intimate retreats she's provided. Her unconditional, loving support has touched thousands, and acts as a bridge to connect clients with a powerful, Divine Guidance. You can find this unique and wonderfully talented Intuitive at PsychicAccess.com.


This site uses Akismet to reduce spam. Learn how your comment data is processed.