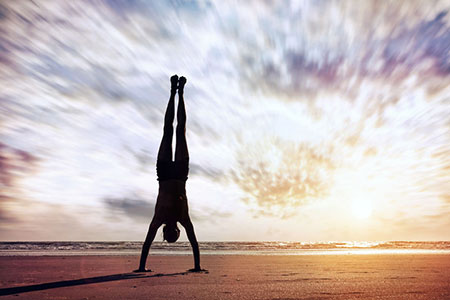 When I'm not doing psychic readings, I enjoy engaging in activities that support a healthy lifestyle, such as Yoga and Herbalism. Although I spent many years training with Yoga masters from around the world and I am a certified Yoga instructor, I continue to learn more each time I get onto the mat.
While practicing the other day, I found myself thinking about the Tarot cards while in a particular yoga posture. It was the asana known as the Hero's pose, or Virasana. The pose involves kneeling or sitting in between your bent legs.
As I was sitting in this stretch, I was wondering how the posture got its name, which comes from the Sanskrit word vira meaning 'hero.' It occurred to me that a hero was someone who had to think of someone else or others in that moment more than themselves. When we are pushed to our edge, in that moment of vulnerability, it makes us stronger. The same humility can be found in certain Yoga postures.
Then the Emperor card from the Tarot deck came to mind. The Emperor in a reading can show a ruler or leader who is strong, confident, and who guides others. Might there be an ancient connection with Yoga and the Tarot?
I then began to think of other Yoga postures and how they might correlate with the other Major Arcana cards in the Tarot.
The first that came up for me was The Hanged Man. This iconic card features a figure hanging upside down from a tree. Hanging from a tree in this way would certainly make one see the world from a different perspective. Interestingly, the headstand pose in Yoga, Sirsanasa, aims to create mental balance and physical poise. Continue reading →