The Year Of The Emperor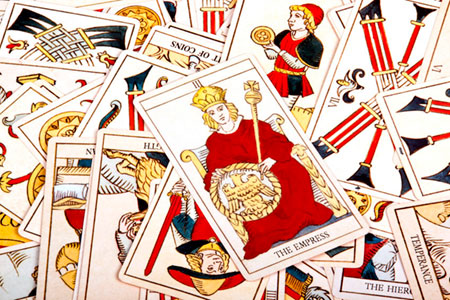 During my psychic Tarot readings, I often ask my clients for the month, day, and year of their birth, so that I can equate their Tarot lifetime archetype and current year cards. Tarot numerology has always been spot on in my readings, and it has also been accurate on a grander level, when looking at the current year in general.
The year 2019, when added across calculates as 2 + 0 + 1 + 9 = 12, which reduced equates to 1 + 2 = 3. These numerological calculations of 12 and 3 correspond to two cards in the Tarot.
The first is The Hanged Man (12), that often shows up in s spread when there is a sacrifice to be made, hold-ups, the need to let go of hang-ups, seeing life from a different perspective, or an overall feeling of waiting in general. This state of limbo is often seen as a voluntary sacrifice for a greater cause on a more macrocosmic level.
The Empress card (3), represents fertility, pregnancy, motherhood, female entrepreneurship, or mother to the son in the Hanged Man card.
What could these two cards be saying on a numerological level about 2019? I thought about this on New Year's eve, as we were crossing into 2020. What sacrifices did we make on a personal level in 2019, as well as on a worldly level?
It appears there was a division of opinions on a mass scale, about many different topics, as well as a need for us to look at the 'hang-ups' that we were holding onto, and to see them from an outside perspective. Humanity, as a whole was in a way, on hold and pregnant with what we will give birth to this year, in 2020.
2020 is a colossally expansive, transformative, evolutionary year. It is an Emperor year, signaling a rebirth of the self, and the initiation of new soul journeys ~ Lindsay Mack
The Hanged Man card of 2019 correlated to the feeling of being on hold and The Empress card was a reminder that even when we feel like things are on hold and upside down, the Great Mother is always holding us close and reminding us of how important our self-care is. She also reminds us that no matter what is taking place in the outer world, we are always her beloved children and being held in the nurturing womb.
Gravity itself, is one way of feeling held close to Earth, and a reminder of how important a teacher Mother Nature is to us. The Empress is also a great teacher to the Hanged Man, in that she is giving us a clue with her pregnant belly that all things come to fruition in due time, and that nature and divine timing are in charge. There was a lot to let go of in 2019, to make room for what is to come in 2020.
The year 2020, on the other hand, adds up to The Emperor card (4). He predicts that this going to be a good year, where we step into our power in radical and diverse ways. The Emperor in readings can mean personal power, job promotions, your boss at work, and fatherhood. One of my favorite meanings for this card is 'the warrior who doesn't need to fight anymore.'
Think about the Emperors in history. They had to make quick decisions for many who depended on them. They had the confidence  to react well under stress, as well as an inner peace and grounded power that gave them the confidence to know what was the right thing to do under pressure. Of course, we have evolved much from these ancient times, but we still have much to learn, and more growth and evolution to accomplish. What we learned in 2019 was crucial in taking us forward into 2020.
2020 is a potent year for us and marks a big shift for the collective. No matter what you are going through in your life this upcoming year, let The Emperor be your compass ~ Kyra
The year 2020, the year of the Emperor, is our chance to come together, to work together as a whole toward a more healthy way of living, and a more constructive way of interacting with others and the world around us. With technology, we've never been so easily connected with others across the world as we are now.
From years of reading for people all over the planet, I have seen the evidence over and over again that we are all one. We all have the same basic needs and longings. Though we may differ in cultures, traditions and in other topical ways, we are all the same at the core.
In 2020 The Empress and Emperor will unite, and like a new mother and father, we need to ask ourselves: what are we birthing for this new decade? We are being given a sacred gift and opportunity. I believe this year holds the seeds to a decade that will give a whole new meaning to the term, 'The Roaring 20s.'

About The Author: Isadora

Known as The Psychic's Psychic, since 1998, Isadora has read for thousands all over the world, her impressive list including clients from the Obama administration, Fortune 500 CEO's and notable names in Hollywood. Her detailed (Gemini) accuracy is nothing short of astounding, with her ability to see people at the Soul Level and clearly answer questions on a wide range of subjects, from relationship matters, business decisions, to past lives, etc.—anything that requires clear answers and pin-point insight. She has the ability to identify hidden patterns that run beneath your current situation, providing you with information to positively change your future. If you'd like a reading with this compassionate, straight forward, laser-accurate and dedicated Psychic, you can find Isadora at PsychicAccess.com.