Spring Is A Time For Personal Renewal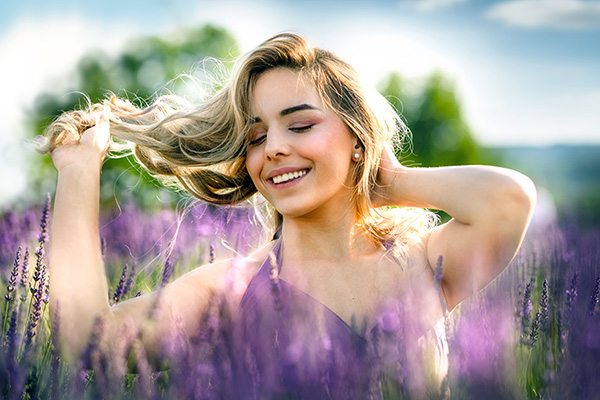 With the recent equinox in the Northern Hemisphere, the spring season is returning once again, bringing with it a renewed sense of energy and optimism. The longer days, warmer weather, chirping robins, and budding blossoms beckon us to start afresh and make some positive life changes.
As the seasons merge from cold to warm, it's the perfect time to let go of some unwanted 'winter habits' and embrace some healthier lifestyle practices in the coming weeks.
One of the most uplifting ways to embrace the spirit of spring is to let go of things that no longer serve and support the best version of you. It's a time to clear out the mental, emotional and physical 'clutter' and make space for new blessings to come our way.
Whether it's a bad habit, a toxic relationship, or simply old possessions no longer needed, getting rid of what no longer serves us is always a liberating, empowering experience.
Releasing old energy and letting go of attachments can be challenging and complicated, but it is essential for our personal growth and well-being. We often hold onto things way too long out of fear, insecurity, or simply habit. It limits us from experiencing new and exciting opportunities. Life begins outside our comfort zone.
Think of it like cleaning out your closet. We all have clothes that no longer fit, are out of style, or we simply don't wear anymore. Removing these items makes room for fashionable new items that better reflect who we are today that we will love to wear.
Spring is the best life coach: It gives you all the energy you want, all the positive thoughts you wish and all the boldness you need! ~ Mehmet Murat ildan
The same concept applies to all aspects of our life. Letting go of what no longer serves us, clears space for new opportunities and blessings to enter our lives. It could be a new job, new relationship, new home, new location, or a new sense of purpose and direction.
Spring is the optimal time to begin this process of renewal, reinvention and rebirth. Take some time to embrace stillness, reflect on what is no longer serving you, and commit to letting it go. This could mean decluttering your home, breaking a less-than-ideal lifestyle habit, or ending a toxic relationship. Whatever it is, trust that by doing so you are opening your aura for new blessings to come in.
Embrace the positive, hopeful energy of spring and all the wonderful new possibilities it can bring. Let go of what no longer serves you, and watch as new blessings unfold in your life. Below are some tips on how to do just that.
Set Goals
Identify which areas of your life need some renovation or improvement and then set clear goals for yourself. Be sure to make your springtime goals specific, measurable, and attainable.
For example, if you want to start looking for a new job, set a goal of spending at least one hour per day researching job vacancies online and submitting a minimum of two applications every week.
This way you can track your progress from week to week, to see if you are consistently meeting your goal. Approaching goals in this way not only ensures that we stay on track, it usually also guarantees greater success in a shorter period of time.
Create a Plan
Once you have identified clear goals, create a supporting plan of action. For example, if your goal is to lose one pound of weight per week, then your plan might include, for example, meal planning, scheduling workouts, setting reminders to drink more water, and so on. A plan will help you stay on track and make sticking to your new habits easier.
Start Small
Don't try to change everything at once. Start small and focus on one or two goals at a time. Break these down into smaller steps. Turn your long-term goal into medium and short-term goals.
Get Support
Surround yourself with people who support your goals and will encourage you. This could be friends, family, or even a support group.
Celebrate Success
Celebrate each win, completed step and breakthrough, no matter how small or mundane. This helps you to stay motivated and encouraged as you work towards achieving your larger goals.
Practice Self-Care
Taking care of yourself is essential in creating healthy habits. Make sure to prioritize self-care practices, like getting enough sleep, practicing mindfulness, and taking time to do things that bring you joy.
Stay Positive
Embrace a positive mindset and focus on your progress. Remember that change takes time. Be patient with yourself.
Following these recommendations, you can embrace healthier lifestyle practices that will guide you to your best self. Take it one step at a time, celebrate your wins, stay positive, and enjoy your new season in the light of spring.

About The Author: Shawna

Shawna lives in the American Southwest and is a third generation Spiritualist and Clairvoyant. She recognized her own gifts at a young age, fully embracing her calling as a Clairvoyant, Medium, Spiritual Astrologer, Tarot Reader, Aura Reader, Water Reader, and Healer, training under the tutelage of some truly gifted mentors. Shawna utilizes her natural psychic gifts to help individuals navigate through personal challenges and discover the higher manifestations of their life paths. She's provided positive, spiritually responsible, and ethical readings in-person, over the phone, and online, and has read for clients in Los Angeles--at psychic fairs--and at the Crystal Gaze Spiritual Center, in Lakeland, FL. She is also a trained practitioner in Clinical Herbalism (University of New Mexico), Ayurveda Medicine (San Diego College of Ayurveda), and Reiki. Shawna has channeled messages for political leaders, celebrities, and has accurately predicted the outcome of national campaigns, as well as a big career opportunity for a talented actor that resulted in a Tony Award! If you'd like an enlightening and empowering, full-spectrum of guidance, you can find Shawna at PsychicAccess.com.