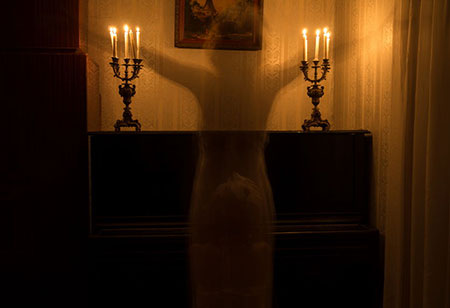 Do you suspect your home may be haunted? If so, don't panic! The majority of hauntings are generally harmless. However, it is nevertheless imperative that you be able to recognize when spirits are around you, and to know how to engage correctly with them at all times. If you suspect that you are dealing with something more ominous, then it may be advisable to find professional help from paranormal experts in your area. But in most cases there is usually nothing to fear. The following guidelines may useful to you when dealing with typical ghosts in your home
Spirit Spotting
Spirits are often experienced by humans as orbs, flashing lights, shadows, blurs or mists. Complete, full-bodied apparitions, as are often portrayed in the movies, tend to be more rare and less frequently encountered. Yet, this is what most people expect to see, which impairs their very awareness to recognize spiritual contact when it actually happens.
Interestingly, paranormal research suggests that ghosts tend to be more active during the night, rather than the daytime, possibly because there is less electronic disturbance being emitted from household appliances at this time. In fact, electricity is a crucial factor in tracking down ghosts, as a lot of professional paranormal investigators use Electromagnetic Field (EMF) meters to measure spirit activity.
When an electromagnetic current changes or moves, it creates an EMF, and as ghosts are understood to be a form of energy, this energy current interferes with the EMF fields that surround them whenever they move, thus allowing any detecting equipment to ascertain both the spirit's presence and whereabouts. How exciting is that?