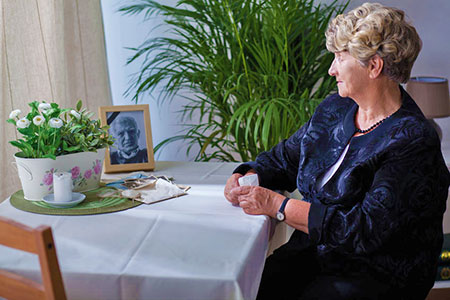 When a loved one dies, it is never easy. It is always traumatic to lose someone who we have lived with, taken care of, loved and nurtured – be it a partner, spouse, parent, sibling, relative or friend. The feeling of them suddenly no longer being here can be devastating. Even their little quirks, which sometimes annoyed you when they were alive, is forever missed. We suddenly miss everything about them!
Thankfully, the spirit of those we love remain very much alive after their passing. Despite the 'vehicle they drove around in,' namely their physical body, may no longer be around, their spirit is still around. They can hear and see us, and they can feel our emotions.
I can tell you that when we call our loved one's name, they are with us. When we pray for them, they appreciate it. Greatly. The two best things you can do is pray for your loved ones and say their name out loud. Continue to talk to them. And when you  talk to them, they respond through sending you thoughts and signs. They also come to us in the dream state when we are sleeping. Write them a letter and put it under your pillow, and try to remember your astral travels the next day.
Your loved ones are never far from you. Love is the energy that keeps us connected with our loved ones. Sometimes they will give you a little visit. Remember to ask and you shall receive. Knock and that door will open.
Posted in

Afterlife, Dreams, Healing, Love & Relationships, Paranormal Phenomena, Psychic Phenomena, Spirituality
|
Tagged

Afterlife, astral travel, bereaved, candles, clairtangency, crossing over, death, dreaming, Dreams, emotions, evidential mediumship, family, friend, ghost whisperer, grief, Healing, human body, life drama, light body, mediumship, memories, mourning, Paranormal Phenomena, partner, prayer, psychic attunement, psychic awareness, psychometry, relatives, sadness, siblings, significant other, signs, soul, soul energy, soul group, soul recognition, spirit communication, spirit contact, spiritism, spiritual messages, spiritualism, spouse, telepathy, thoughts, trauma, unconditional love, visitations
|
Leave a comment