Combining Cartomancy With Pendulum Dowsing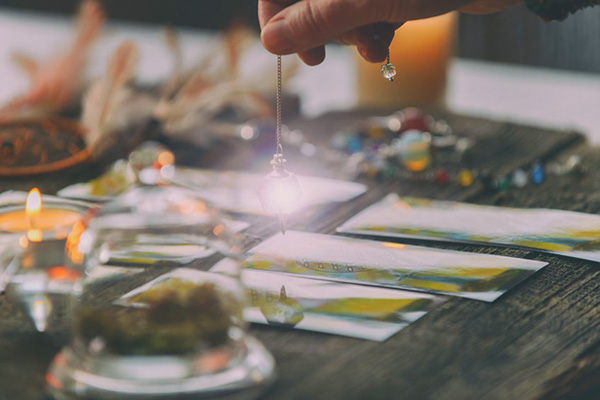 Every psychic is different on how they do readings using divination tools. I like to challenge myself and push the envelope. I have developed my own divination method by combining the use of a regular deck of playing cards and a pendulum to do psychic readings.
A pendulum is a weighted object at the end of a string or chain and it can be used for both dowsing and divination. The 'bob' of the pendulum is usually a crystal, piece of metal or some other gemstone. Pendulums have different sizes and shapes and they come in many colors. I use a quartz crystal pendulum with a 12 inch chain. Divination with a pendulum can be done in many different ways, including using charts. You can even use a simple chart you draw on a normal sheet of paper.
The idea to use a pendulum and deck of cards at the same time came to me many years back, when I felt the need for a new psychic challenge. When I do psychic readings with playing cards, I find it helps to open up my psychic abilities even more.
You may wonder how anyone can use an ordinary deck of playing cards, instead of the Tarot or oracle cards, to do readings. Well, I can feel the energy or 'vibes' better by using ordinary playing cards when I do a reading.
When I was younger I used to give readings to friends, and I discovered the cards give off a very strong energy for me. I am guided by spirit when I read, and when my psychic abilities kick in I feel a 'heat' or I feel my hand drawn to certain cards. I get an even more accurate result when I use a pendulum, instead of my hands.
I usually do a 15 card spread. I close my eyes and slowly go over the cards. The positive cards give off an energy, as I slowly go over the whole deck until the 15 cards are all done. At times I may get the 16th card as a 'good luck' card, and then I usually pick up a court card of the person in question, or the person I am reading for.
Discoveries are often made by not following instructions, by going off the main road, by trying the untried ~ Frank Tyger
During in-person readings I ask the client to give me a item that belongs to them and I then hold it for a small time to pull the psychometric energy off that item.  Sometimes, if we have time, I do a second reading that is similar to the method I use for phone readings on Psychic Access. It is a five card spread of three rows, and I do it to confirm the accuracy of the cards that came forward in the previous reading.
Cartomancy and pendulum dowsing are only two of many divination options available to readers. I believe in my heart that God gives us the ability to use different tools to predict the future. Signs and spiritual symbols are everywhere. We just need to unlock their meanings and messages.

About The Author: Raymond

Growing up on the streets of Columbus Ohio, Raymond learned at a very young age that he was gifted in many ways, including the ability to read someone's eyes and using a regular deck of playing cards to read the future! His mother was from a Native American family, namely the Black Foot tribe, and his father was German. Raymond discovered that both sides of his family had a psychic legacy. Over the years he has gained additional knowledge from books and by talking to trusted family members. Raymond has been doing psychic reading for others for over 3 decades, and over the years he gained many loyal clients from all walks of life. Visit Raymond for a reading at PsychicAccess.com