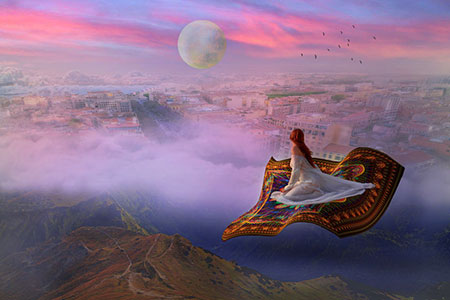 Traveling to sacred sites has always been something I love doing, ever since I was a young girl. There is something undeniably magical about visiting a spiritual place that has much lore or mystical history associated with it.  Some of my favorite destinations include Mount Shasta in Northern California, Sedona in the Verde Valley of Arizona, and Machu Picchu in the Andes Mountains in Peru.
These sacred sites are all home to powerful energy vortices and ley lines in the Earth's electromagnetic field, containing more metaphysical energy than ordinary places. Visiting here feels as though you have stepped into a different dimension, or another place in time. Millions of people around the world travel to these locations in search of enlightenment and healing, gaining a broader perspective, raising their awareness, or simply to have a special spiritual experience.  
With the advent of Covid-19, few people have had the luxury lately of air travel and long-distance trips. Many spiritual travelers are feeling frustrated and trapped. Some are going stir crazy not having the freedom to travel anywhere in the world. Even local excursions and short-distance trips are challenging these days. I enjoy traveling in the Mount Shasta area, for example, since it is not too far from where I live, but I am reluctant to stay over in a hotel during this time.   
However, spirit recently reminded me that I could still travel to my favorite sacred sites by way of the astral realm. It made me think of the Celtic concept of the immram, which refers to the taking of a soul journey, a sacred pilgrimage, a wonder voyage to a sacred site where the soul needs to go. Spiritual seekers and metaphysicians have been taking these inner voyages on the astral plane through the ages. 
We are not limited to the physical body or the mundane world. In the same way we can physically visit a physical place of interest, we can also journey there on the astral plane. Traveling in this way, we can journey anywhere we want to, while remaining in the physical comfort of our own home.