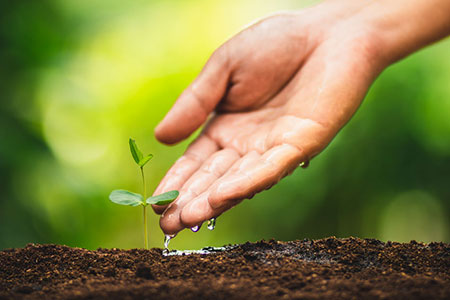 To be the architect of our own destiny is a spiritual concept that has been spoken of for thousands of years. The Vedas call it Karma. The Bible refers to it as 'reaping what you sow.'
Karma is a Sanskrit word that means action, as well as reaction. It has made its way into our everyday language to represent the good or bad we create in life that will eventually come back to us.
However, the true meaning of karma goes much deeper than that. In this life it does refer to 'sowing and reaping' in the short-term, but it also extends into the long-term, over thousands of years and many lifetimes.
The Padma Purana, an ancient Hindu encyclopedic text of spiritual truths, compares karma to seeds that are sown and harvested in due course of time. It explains that every activity we perform bears four kinds of effects. The first is merely a seed, the second is not yet fructified, the third is in the process of being fructified, and the fourth has blossomed and is already mature.
The karma we are experiencing today, are the sweet and sour fruits of the past seeds we have planted, – not only in this lifetime, but also from thousands of years and lifetimes before this life.
Therefore, we may not be able to recognize why certain things are happening that seem out of sync with the efforts and energies we are extending in the now. Similarly, it may sometimes be disheartening and difficult to understand why the desired results of our best endeavors do not appear to be coming to fruition.
To thoroughly resolve these misgivings, a broader scope of our soul's journey before and beyond this one body and lifespan must be considered. Clarity can come with spiritual vision and higher consciousness.