How To Truly Let Them Go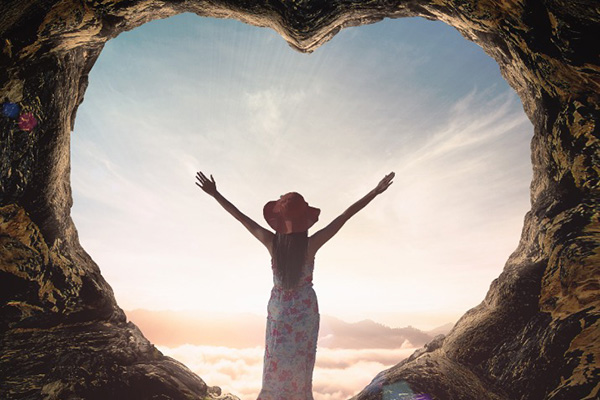 When a relationship ends, we may find it very difficult to let go of the other person, especially when they have been the one who chose to leave. Friends and clients have often asked me this question. How do I forget him? How do I stop thinking about her? I have asked myself this a few times in my own life too.
My psychic observation has been that consciously trying to forget someone for whom we have strong feelings of love and affection will only serve to make it worse. 'Forgetting' someone we love is unnatural and goes against our grain. It only creates resistance that further increases tension and intensifies our pain.
So, it is usually better, but not easier, to channel or process our feelings of love and affection for another soul, in a more constructive, liberating way. This includes honoring the freedom of every soul's path in relationship with God, Source, Spirit, the Divine.
It is essential to let our feelings flow, because emotions are energy in motion (e-motion). The energy will move through and in time lessen, like storm clouds passing through the sky, until the sun is visible to the eyes again.
Keeping the heart open is an important part of this process. The vision God gives me to describe this is of being in your home, going about your own life within it, with all your attention focused on the activities, surroundings, and experiences of the moment, and simply being present with what you have and what is, while the front door remains open in the background.
To let go does not mean to get rid of. To let go means to let be. When we let be with compassion, things come and go on their own ~ Jack Kornfield
In other words, the door to your heart is neither closed, nor are you standing by it obsessively waiting and watching to see if that special someone will come back to walk through it. Instead, you are just living in your own energetic space, pouring yourself into every moment of your own life. That way you and the present are full, and the door is open for someone to come along, enter, and join you when the time is right.
This approach offers you the opportunity to be happy either way.
Often the question of forgetting the other person arises due to grief. When a loss is exceptionally hurtful and traumatic, it is only natural to want to avoid or stop the pain. Giving up hope and trying to completely forget about them are the most instinctive ways the mind finds to disconnect emotionally from the discomfort. But this is not the most healing and hopeful way.
To find true healing we must process and work through our feelings of loss. Since emotion is energy in motion, trying to stop its flow will only traps it and perpetuate its presence in your mind and heart. Instead, if we embrace our grief, we can transform our feelings as and when they arise.
In relationships, the grief experienced is often a shared energy, passing back and forth between you and the other person. When such feelings come up, it is best to send them back with unconditional love. It eases the grief cycling through the circuit of connection for both of you.
Here is a guided exercise to help you with that. It is best to do this with barefoot connected to the floor or earth to support you and receive the unwanted energy you release.
When someone you love says goodbye you can stare long and hard at the door they closed and forget to see all the doors God has open in front of you ~ Shannon L. Alder
Place one hand over your heart and the other upon your abdomen. Close your eyes and take deep, gentle breaths.
Now think about the other person. Allow yourself to feel every sensation and emotion that arises, to its fullest. Lean into the discomfort and stay with the feelings. Do not avoid or suppress anything.
Now visualize the aching in your heart and the emptiness in your gut transferring into your palms. Then cup your hands, holding those feelings out before you. Now they are outside of you, instead of swirling through your body.
With compassion for yourself and respect for the feelings that you now hold in the palms of your hands, reshape these feelings into something soft, fluid, fluffy, or feather-like, and speak words of love over it. At last, like releasing a precious bird or butterfly into the sky, move your arms forward, flatten your palms out and set it free. Allow God to take it from you.

About The Author: Lotus Grace

Grace is the epitome of her name, having endured a troubling childhood that paved the way for an adult, gentle, energetic grace that she now delivers to others through the gifts of movement, dance, and through her many intuitive gifts that she shares with her clients. For 30 years, this Hudson Valley, NY State resident has cultivated a unique way of helping others, drawing upon God as her best friend, advisor, and the all-encompassing force that is the bedrock of her faith. Her journey has led her to heal and grow through the mud of life and compassionately support others to do the same. She's immersed in the world's diverse faiths with a core that is deeply rooted in more than three decades of immersion in the spiritual practices and wisdom of devotional lineages. Her inner relationship with God/Spirit has deepened the intuitive sights, sounds, scents, and senses that unfold profoundly when she dances. Since 2004, Grace has run a spiritual healing arts and dance sanctuary, where she intuitively nurtures children, teens, and adults. In her client readings, she taps into her Empathic, Clairvoyant, Clairaudient, Intuitive healing to help clients access the divine guidance they need. If you're searching for a little added Grace, spiritual energy, and the answers you need, you can find Grace at PsychicAccess.com.