Published
February 27, 2021
|
By
Sabina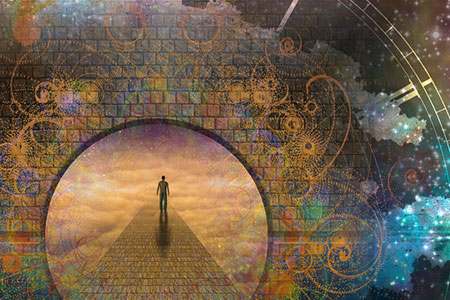 In my late 20s, I was working as a make-up artist in a department store located in a busy train station in Germany. The shop was only 700 square feet and had no bathroom. We had to close the shop and go upstairs to a restaurant to use the restroom. I used to work the late shift from 2pm to 10pm. On weekends, there were often rowdy football and soccer fans crossing the station. Fortunately, the local police were always there to channel the masses on to the stadium.
One evening, I had a nagging sense of unease. It was already dark outside when two young men entered the store and one tried to shut the door from the inside, which was always open and supposed to remain open. Something was very wrong. I did not even need to be a psychic to know that something bad was about to happen.
My father passed away a few months before this and the only thing I could think in that moment was, "Dad, please I need help, please!" A few seconds later, an elderly homeless man showed up with two police officers in tow. They immediately arrested the two men. Apparently, they were trying to hide out in my little store after they had committed a robbery elsewhere in the station.
That ragged man was my hero…a guardian angel! He usually sat on the platform to watch the trains come and go. He was homeless, but he was not a beggar. I tried a few times to offer him food or money, but he always declined and said he was fine, he wanted for nothing. After that we greeted each other every day with friendly smile, and that was it.
After the two robbers were arrested, the old man brought me a cup of coffee and my favorite hamburger. Now, it was my turn to ask him, how did he know about my favorite burger. He smiled at me and said I reminded him of one of his favorite former students.
Posted in

Afterlife, Angels, Intuition, Paranormal Phenomena, Psychic Phenomena, Spirit Guides
|
Tagged

angel, Angels, charity, clairaudience, claircognizance, compassion, earth angel, friendship, guardian angel, gut feelings, Intuition, kindness, loved ones, memories, Paranormal Phenomena, premonition, prescience, presentiment, psychic ability, psychic attunement, psychic awareness, psychic experiences, selflessness, spirit communication, spirit contact, spirit guardians, Spirit Guides, spirit messages, spiritism, spiritual protection, spiritualism, trauma
|
Leave a comment