When Animals Cross Over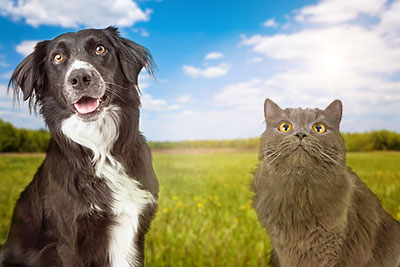 I am an animal over. I have four cats and two dogs. Sadly, I have also had many animals that have passed over the years. I have been doing animal energy healing and mediumship readings for over 15 years, and I have come to learn a lot about how animals cross over and what their experience is.
Almost every animal I have read after their passing, has stayed next to their human for days, weeks, and even months after passing their death. It takes them a little more time to understand that they are no longer attached to their physical body.
I try to encourage my human clients, who have lost a pet, to slow down and stay silent and still for periods of time while in their house. When they do this, often they can hear their dog bark or their cat meow. Some hear scratching or paws tapping on their hard wood floors. A few have heard their pet's chain, leash or collar make a noise. Many also tell me they can feel their animal rub against their leg, or sleep next to them at night.
You think dogs will not be in heaven? I tell you, they will be there long before any of us ~ Robert Louis Stevenson
This is a typical adjustment period, where the animal goes back and forth between Heaven and Earth, to make their transition less abrupt and traumatic. Animals do not always understand what has happened to them; they don't have the same understanding of death and bodies as we do.
When they finally do cross, usually with the aid of a family member or loved one of the pet owner who is already on the other side, they become one with the Source, but can separate their energy when called upon, as well as when their human eventually also crosses over. It is like scooping out a cup of water from the ocean and putting it back into the ocean again.
Our animals greet us when we cross and often take the form of the animal body they had lived in while they were on Earth. Sometimes they come through as orbs of light, but the owner instinctively recognizes the animal, without seeing an apparition of the body they lived in.
Animals do reincarnate and often come back into the same human family they were a part of before. Just like humans, thinking about them can bring forth their energy into our home again, even just for brief periods of time. Sometimes they will look exactly like they did before and be the same breed and sex, but they may only have some similarities, like similar markings. They may even return as a cat, instead of the dog they were.
Those we love and lose are always connected by heartstrings into infinity ~ Terri Guillemets
My friend recently lost her cat. Her cat had a brain tumor and mistakenly attacked her. It was a very traumatic event in both of their lives. Even though I live across the country, my friend's cat came to my yard the next day, in spirit, looking like she did physically. I instantly knew know it was her. She wanted my friend to know she was okay. I saw her that one day and then never again.
So, as painful as it is to lose a pet, know that like humans, the loss is temporary. They do come back to us in some way, and they are linked to us for eternity. They are forever embracing us with their unconditional love, innocence and furriness!

About The Author: Satya

Satya lives in Northern California and is a natural Clairvoyant, Empath, Conduit, teacher, author, animal lover, healer, Reiki Master and an advanced yoga instructor. She has provided valuable psychic assistance to Hollywood stars, athletes, and everyone else in-between. A multi-layered Intuitive, with many unique gifts at her disposal, she can give you a doorway into the past as well as a gateway to a happier future. With her long distance energy work, she provides healing for people and animals too! She instantly spots karmic connections from past lives that directly affect current situations, helping clients to move through them quickly. For accurate solutions on just about any pressing problem, you can find Satya at PsychicAccess.com.


One Response to When Animals Cross Over