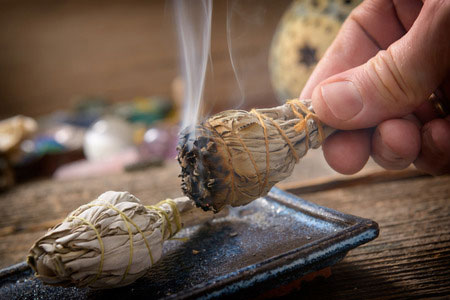 If you think your house might be haunted, or affected with negative energy, a spiritual cleanse that removes negative energy may be just what you need. A spiritual cleanse of bad energy is simple enough to do by yourself and effectively remove it from your home, but a serious haunting will probably require professional help.
Ghost-hunting is not for the faint-hearted and it should always be researched and done with extreme caution, as you never know whom might come from the Other Side or, even worse, have an attachment to you. It is fun to watch on TV, but going out to actually experience it is another matter. It is best to get professional assistance with house clearings.
According to the Chicago Tribune*, psychic medium Denise Guzzardo recommends the following DIY methods to remove negative energy from your home.
Sage
Remove bad energy with sage. This practice dates back to Native American cultures, but it's accessible and successful even today. Sage sticks are available at your local grocery store. The pungent smell of sage clears the space of negative energy.
White Candles
White candles are known to keep away supernatural spirits that bring negative energy into your home. The positive energy from the white candles negates the negative energy of spirits. You must light white candles in votives in every room of your home to remove negative spirits.