Posts Tagged 'Ouija board'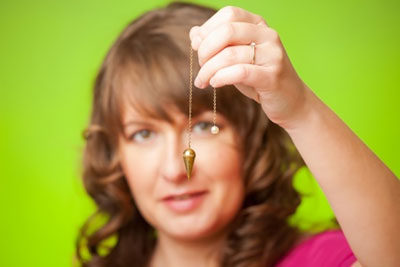 Automatic writing means writing without conscious thought and is essentially a way of channeling messages from Spirit and the subconscious. Instead of physically writing on paper, I personally use a pendulum and an alphabet chart. Some mediums write on paper, and others employ automatic drawing.
In preparation for a session with myself or a client, I first clear the energy in the space around me, my pendulum and my chart. Then my guides show me who is present by each moving the pendulum in a specific pattern that they have chosen. I ask permission to know the answers I seek. Very rarely have I been denied, but always for a reason. Usually either for myself or a client, it's because of thinking too much about the subject. Spirit is saying: "Stop It!" I call that "tough love." Read the rest of this entry »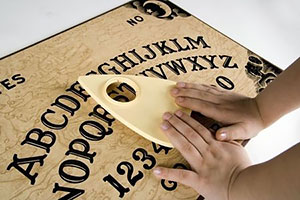 The most misunderstood item in the diviner's toolbox is probably the Ouija board. Since its invention the debate continues to this day whether this famous item is merely a game, a glimpse into our subconscious, a gateway into the spirit realms, or even an "instrument of evil."
Like any channeling object or psychic tool, the Ouija board must be used with great care and respect. Its origins go back to the late 19th century and the practice of spiritualism, or séances to connect with loved ones who had passed on. Its design is simple: a flat board with letters and numbers, plus basic words like "yes" and "no," but its usage is much more complex. Read the rest of this entry »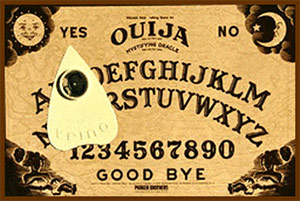 I often have clients and yoga students asking me my opinion on the Ouija board. Well, I have a hard time even writing the word, if that is for-shadowing of my more detailed view on this matter.
It is one thing to develop your intuition and tell your guides that you want to communicate with loved ones who have passed, and quite another to open yourself like a sponge and allow all energies in.
When you open yourself blindly to anything that wants to come in, you cannot control or filter what comes in. There is no protection. When you go through your guides, they will protect you and allow only positive vibrations and energies that you know in. Read the rest of this entry »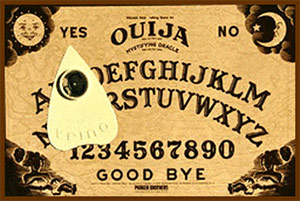 The Ouija board is an occult item that you don't want to mess with, or even try. It looks like something harmless and it's supposed to be a fun, friendly board game, but using it may open you up to something that could bring harm to you.
My brother once thought it was harmless to try and use the Ouija board to make contact with a good friend we had lost in a car crash. We grew up together, and when we heard that our friend had passed in an accident my brother was very distraught. He was looking for answers as to what had happened and for some mysterious reason so he decided to turn to the Ouija board for assistance. I told him I felt it was not a good idea, since I had read stories at the library about people who used the Ouija board and the disturbing things that happened to them. Read the rest of this entry »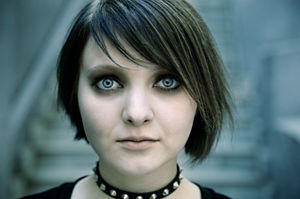 The most exponential time of growth in children's powers have always been traditionally around the time kids are starting to become adults, and with the changes of emotional volatility, parents must be aware of all the energies and ideas that will be available to their kids.
To children, in a position of powerlessness, with no rights to vote, work or leave their families despite their apparent maturity, this age opens up a slew of interesting, powerful and also useless notions that can leave them confused and highly susceptible.
We as adults should be doing research into psychic abilities and explain to them the difference between spirituality, religion and psychic work. Spirituality is often an amalgamation of different ideas, a blend of ideals that help a person feel better. Religion is an ordered and structured set of moral laws to accompany the spiritual ideals for people. Psychic work can be utilized in both aspects, and have been over the ages, which is where we have historical prophets. In truth though some people seem to prefer using psychics to distance others from their spiritual truths, as the mind of man will supersede the mind of god, thus allowing for both the freedom to grow but also no foundation upon which to grow from. Read the rest of this entry »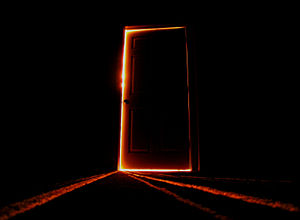 In recent times, I have received an increasing number of enquiries about poltergeist activity. Hence this blog focuses upon poltergeists, including guidance on how to avoid and eliminate such activity.
A poltergeist is a spirit manifesting its presence by noises and acts of mischief, such as throwing furniture.
Living in a home with poltergeist activity can be a very frightening experience. Cupboards fly open; dishes fly across the room and break, and wall hangings rattle or fall.
Normally, a specific member of the family will be targeted because poltergeists are person focused, unlike a haunting which is location focused. People are usually frantic to move or rid their house of such a frightening spirit or energy. Read the rest of this entry »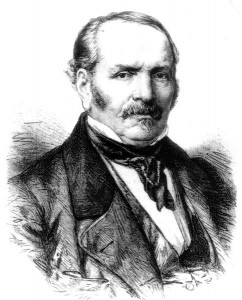 He was way ahead of his time. Allan Kardec was a free thinking man who lived in France in the nineteenth century. When still very young, he had hoped to unify various Christian sects into one religion, but he wasn't successful in doing this.
Kardec's passion was to teach. He graduated law school and he was going to devote his life to law, like his father and grandfather, but his love of teaching won out. He ended up purchasing a large school for boys and the school flourished.
He also purchased a large hall, and he offered courses and lectures on chemistry, physics, anatomy and astronomy. He was also very successful with this, and many of his students gained recognition in the scientific world. He also published many educational works, some of which are still in use in many French schools.
What many people do not know is that Allan Kardec also had an interest mediumship and paranormal phenomena. In fact, I personally consider him to be the true father of modern mysticism. He saw the importance of proving evidence of existence between the visible and invisible worlds. Around 1850 he made a study of the phenomenon of table turning, or table tipping, and spirit tapping during séances (a séance is a sitting of a group of people for the purpose of spirit communication). Read the rest of this entry »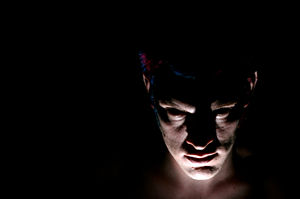 I have been studying all things metaphysical since I was a teenager, and I have found things that work for me, and some things that don't work. One of the concepts that I have found to be very true in the metaphysical realm is the power of prayer. There is no power greater.
I became spiritually aware around the age of 21, if my memory serves me correctly. It was when I had the dream of a dolphin. The dream was about the recently deceased brother of my boyfriend at the time. He came to me in a dream in the form of a white dolphin and he was trying to get into my room. I could see this white dolphin peering in my window! Many messages came to me from this dream dolphin. Kevin was a marine biologist at the time of his death and he was making important scientific discoveries about dolphins. I feel at the time of his death he was given that which he always desired – to get into the mind of a dolphin. Through this dream experience I learned many things. Read the rest of this entry »