Published
October 24, 2018
|
By
Laura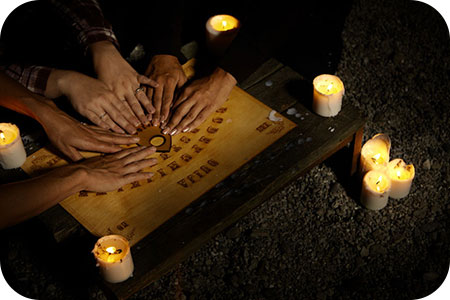 In my opinion the Ouija board is actually not a modern invention. The original concept of the board probably dates back to ancient Babylonian and Egyptian times. I imagine those who were familiar with the mysteries, made their own boards using clay tablets and a pendulum to collect information on just about any subject.
The Ouija board we know today was introduced in the late 1840s when Spiritualism became popular among occultists and secret societies. It was initially more complex, because their methods would involve knocking on the floor in response to letters being called out from the alphabet. Or they would use an intricate device that would have a pencil attached to it, allowing the spirits to guide the inquirer to the letters or numbers on the board.
In 1890, Charles Kennard and some of his colleagues, had the idea to turn this divination tool into a toy. They came up with the name Ouija, because it means "good luck" in Kemetic, the oldest known Egyptian language.
Posted in

Mediumship, Paranormal Phenomena, Spirit Guides
|
Tagged

ancestors, beliefs, childhood, communication, demons, Divination, duality, Egypt, entities, evil, fear, guidance, mysticism, occult, Ouija board, psychic tools, séance, Spirit Guides, spiritual messages, spiritual practice, spiritual realm, spiritualism, traditions
|
Leave a comment