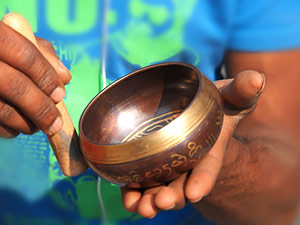 Words have meaning. Thoughts have meaning. Everything we think and say has a vibration that manifests itself into sound, light energy and memory. This sound vibration changes the chemistry of the brain.
A positive sound and vibration changes the brain to a calm, compassionate,  highly intuitive state. Think of a baby laughing and how it brings joy to everyone who hears it.
A negative sound and vibration abruptly shocks and damages the nervous system. Think of someone scratching the chalk board or yelling racist epithets, and how both make you nervous and angry.
We can actually improve our health with positive vibrations in the form of mantras. A mantra is a set of words, with a positive meaning that also has a positive vibration. When repeated over and over, this vibration permeates every cell of the body, igniting, healing and repairing these cells. It moves through every muscle, bone and organ. Continue reading →