Would Turning Your Fantasy Into Reality Be Wise?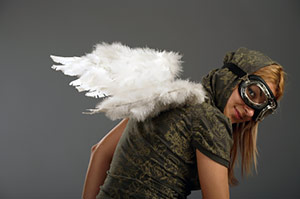 How many thoughts do we have per day? Nobody seems to know for sure and the experts don't agree, but they all seem to concur that it is ranges somewhere in the thousands. We also have many daydreams and fantasies that cross our minds on a daily basis.
Many of these thoughts and daydreams we would never share with our mates, friends, or family. Many of us never act on our fantasies, for various obvious reasons: we want to stay married, or we want to stay in the same job, or we fear failure should we attempt something new and different. Some of us may even fear that we could end up behind bars in extreme cases.
Sometimes the appropriate response to reality is to go insane ~ Philip K. Dick
There is a considerable difference between reality and fantasy. It is true that sometimes our fantasies should be left in our minds, unspoken or not acted upon. Most of us are very grounded and would never act on most of the 'mini movies' that we let roll in the back of our mind.
Watching the news there are many people that do extremely horrible things and can't control their desire to act out their evil thoughts. We see many divorces, and more and more single people, because many just can't stay committed to one person.
But we can also take our imagination and fantasies to a positive place when it comes to getting healthy, starting a new job, trying a new hobby. It all starts with a thought and it is up to us to act on it, and be proactive. Many are waiting for someone to tell them to do something, or give them permission to do something they know would be beneficial to them. I love the quote from one of my favorite singers, Madonna, who said, "Poor is the man whose pleasures depend on the permission of another."
There are some people who live in a dream world, and there are some who face reality; and then there are those who turn one into the other ~ Douglas Everett
It is up to us to decide if our personal fantasies, thoughts or daydreams would be a good thing or a bad thing if we acted upon them. If I did this would this create a positive or a negative domino effect in my life? If it would not benefit me and others, I will quickly discard it and if it is not a good thought I quickly ask the Divine for forgiveness.
I have come to the realization that several fantasies that we have, or desires, are better off left untouched if we want to remain true to ourselves. Others should be acted upon and it's up to us to use decide. If we incorporate good values and morals we won't be mislead.  We can absolutely pray about it, meditate on it. What inspired me to write this blog was when I was playing around with this idea that I should begin to teach yoga. Through prayer and meditation I have decided I am going to make this desire or fantasy a reality.

About The Author: Moon Goddess

Moon Goddess is a third generation empathic healer and seer. She started to give healing readings to people more than 20 years ago. She has always been interested and studied all things metaphysical from a young age. Being hypersensitive she can feel and see things before they happen. Utilizing the Tarot, and with the help of her Guides, she is a source of support for many people all over the world. After he passed over, her grandfather kept his promise and came back to say goodbye and gave her the most amazing experience. Moon knows there truly is a Heaven, and it is wonderful! Sharing her experience has helped many people after they have lost someone, or anyone experiencing some form of grief. Get a reading with Moon Goddess now at PsychicAccess.com.