The Haunted Typewriter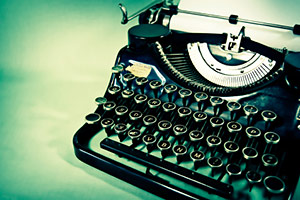 When I was growing up my mother had a typewriter that had been in the family for a long time. I never knew much about its history.
One day I was invited to a family reunion at my aunt and uncle's house. After my mother had passed away I never had much contact with them. We sat around and talked about my mother being a psychic and how she experienced many paranormal stuff as a child. My aunt took out a family photo album she had shown me before and in one of the pictures there was a picture of an old, black typewriter. She told me that it was a 1920's Royal typewriter and that my grandfather received it as payment for working on someone house. The homeowners didn't have the money to pay him for his services.
An idea, like a ghost, must be spoken to a little before it will explain itself ~ Charles Dickens
My aunt then told me that when my parents started to date in high school they let my father rent the typewriter for 50 cents per month. My dad wanted to write books; he had dreams to become an author. Once my dad got hold of the typewriter, his grades started to drop. He had a hard time concentrating on his school work.
I asked my aunt if she had any more pictures of the typewriter. She had two other pictures where the typewriter was in the background. One was a portrait of a great uncle I had never seen before and another of my parents.
I asked my aunt and uncle if they knew the name of the family who gave the typewriter to my grandfather. I sensed this typewriter had a story behind it. It felt it might be haunted and that it was trying to tell them something. I suggested we hire a psychic medium who is really good in this field and have everyone chip in money to pay for her services. She agreed and called me a few days later with a date for the psychic reading.
I got there early and my aunt ask me to set the chairs up. The psychic wanted it arranged in a half moon with the typewriter in the middle. My aunt also brought someone with a camera and tape recorder, to see if we can get some pictures. As other family members began to show up we gave them a seat according to age, from left to right. Since I was the youngest, I had to sit on the end.
When the psychic medium arrived she asked everyone to keep a open mind and if we had anything, like pictures or jewelry that belong to anyone who has passed, to please put in a basket and pick it up again after the readings. She then turned off the lights.
I have been at work for some time building an apparatus to see if it is possible for personalities which have left this earth to communicate with us ~ Thomas A. Edison
Before the psychic started to do the reading I could feel that the energy in the room had shifted a lot. She then told us she would be inviting the spirits who passed on to show up. During the reading she was bringing up stuff about my mom side of the family that I never knew about and you could see by the expression on the faces of family members that she was hitting on a lot of things.
After a while she took a small break and asked everyone to close their eyes and concentrate on white light surrounding them for protection. She went up to the typewriter and asked it many questions. She then took out a notebook and started to do automatic handwriting. The name "Alice" came up and she kept circling the name over and over.
It eventually became clear that Alice was seven years old when she got the typewriter from her grandfather Ettore. There was a fire and everyone had died and the surviving items in the house was taken away to be sold. This little girl wanted everyone to know that the typewriter still belonged to her. The psychic assured her the typewriter was now in good hands, that she no longer needed it and then invited her to return to the light.
My aunt tells me that she recently took a sheet of paper and put it in the typewriter, before she went on vacation. When she came back the word "H E L L O" was typed out on it in capital letters.

About The Author: Raymond

Growing up on the streets of Columbus Ohio, Raymond learned at a very young age that he was gifted in many ways, including the ability to read someone's eyes and using a regular deck of playing cards to read the future! His mother was from a Native American family, namely the Black Foot tribe, and his father was German. Raymond discovered that both sides of his family had a psychic legacy. Over the years he has gained additional knowledge from books and by talking to trusted family members. Raymond has been doing psychic reading for others for over 3 decades, and over the years he gained many loyal clients from all walks of life. Visit Raymond for a reading at PsychicAccess.com