spirit animal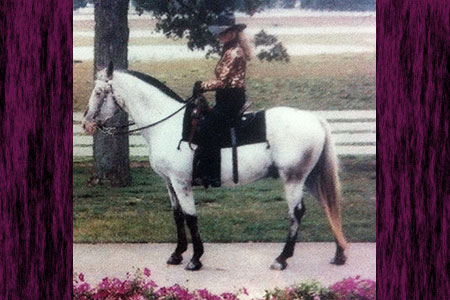 My passion for animals is far-reaching and horses are a definite favorite. They are amazing creatures that have been roaming the planet since the beginning of time. They started out humbly, but worked their way up the evolutionary ladder.
There is one particular horse that I will never forget. He entered my world about 6 months after my beloved American Quarter Horse, Luke, had passed away at the age of 22. I yearned for a new four-legged friend and found Jake for sale on a nearby farm.
I wanted a horse that would be good on trails, like Luke used to be. As I looked at the herd, one horse stood out instantly, staring at me with eyes that touched my soul. Jake wasn't the prettiest horse there; he had lots of nicks and bite scars on his body. He was a white horse with a black mane and tail, with black varnish markings on his legs and face.
The owner told me that Jake was unfortunately not the most willing horse on trails, but I still had my sights set on him. He also mentioned that a thorn from a tree had broken off in the horse's eye, several months back, but it seemed to be fine now.
As the man brought him out, I noticed he was heavy-handed with him and used force when not needed. The horse looked at me intently. I could clearly sense his sadness. He was not happy there.
The owner then saddled him up for me to ride, and he cut a branch from a nearby tree to use as a switch. "You'll need this on the trails," he said. I politely took the makeshift riding crop (with no intention of using it) and headed off to the wooded trails nearby.
Jake was quiet and we were feeling each other out. It was soon evident that he was a caring horse that aimed to please. I enjoyed the ride, and tossed that stick on the first turn. That was the day I started the love affair with my new Colorado Ranger horse. Only 5,000 of Colorado Ranger breed were registered at the time. The man could not recall how old Jake was, but when I got his papers I found he was 22 years old.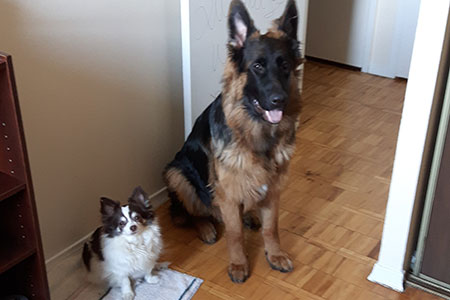 In 2017, I visited the vet with Max, my German Shepherd, for dental work. Max was a rescue from Germany surrendered by his previous owner because he was considered a "too active" puppy.
While we were waiting at the clinic, he suddenly started pulling his leash into the operating room and began barking at me to move faster. I was caught totally off guard. He had never behaved like this before.
At the time he had been with me for over 10 years and had the typical issues coming from being an elderly dog. But he was the most people and dog-friendly dog you could imagine. He was never unruly or aggressive and he seldom barked.
I followed him and soon found the reason for his excitement. A small Chihuahua was tied to the examining table and looking at us. I then realized that Max had sensed the little dog was scared. He started to comfort him by lying beside him and gently playing with him.
When the vet entered the room, she was astonished to see the two dogs comforting each other with face licking and wagging tails. She then revealed that Cody the Chihuahua had been surrendered to the shelter she did volunteer work for. Mr. Cody had not found a forever home yet, because had been labelled "aggressive towards other dogs."
Also, he was a hospice adoption because he was in an awfully bad shape. He suffered from serious heart failure and had never had dental work done before. The previous owner had him for 9 years and did nothing to ease his pain and suffering. No wonder he was acting aggressive – who wouldn't be with 13 rotting teeth in their muzzle!
At the time, I had recently immigrated to Canada and I had to start over from scratch. I arrived here with only suitcases and my dog. I was definitely not planning on adopting another dog. But that was not what destiny had in mind for me.