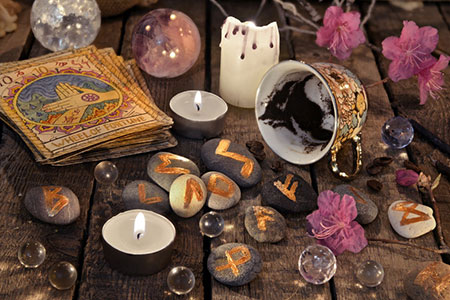 Every psychic has a different set of gifts and abilities, and because of this different psychic tools work better for different individuals. Let's take a closer look at some of the more familiar divination tools used by readers today.
Tarot cards date back to the Renaissance and represent different archetypes and symbols. Each card pictures a specific individual or action, and the cards are used in different layouts, or spreads, to provide insight and meaning. Usually, a specific question is asked, to which the cards help provide an answer.
Angel oracle cards are similar to the Tarot. As the name suggests, each card features a different image of angels and archangels. Angels cards help us to communicate with our spirit guardians, as they look out for us. Each card typically has a short message, which help us figure out what our guardians are trying to say.
Crystals are very popular metaphysical tools. They come in many types and colors, and each has a unique set of properties, For example, rose quartz is used for love energies, and hematite for strength, and so on. No two crystals are alike. They can be used to channel, intensify, deflect, or purify energy sources, depending on an individual's needs.
Many practitioners have an entire toolkit of just crystals. The crystal ball is often seen in depictions of psychic readings. A crystal ball is used to scry, in order to practice seeing the past, present, and future. They are also useful in finding missing persons or objects.
Posted in

Angels, Astrology, Crystals & Stones, Divination, Energy, Psychic Readings, Runes, Self-Help, Tarot
|
Tagged

angel cards, angel messages, angel readings, animals, Astrology, cartomancy, channelling, crystal ball, Crystals & Stones, Divination, divination tools, dowsing, energy field, energy flow, energy imprint, energy signature, energy vibration, gifts, herbs, Horoscopes, oracles, pendulum, psychic abilities, psychic attunement, psychic development, psychic reading, psychic tools, psychometry, reading, Runes, scrying, spirit animal, Tarot, tarot cards, tarot deck, Tarot readings, tarot spread, totem, traditions
|
Leave a comment