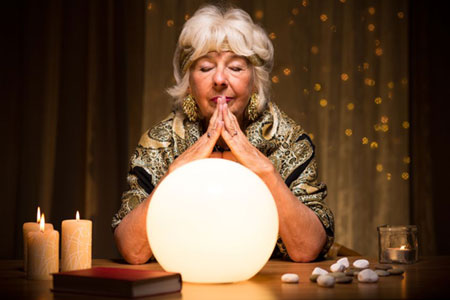 Living a life tuned into God's grace, through my intuition, never ceases to amaze me. It is ever-adventurous – never old, dull, or flat. Why is it so exciting and fresh to me? Because every moment is in the moment. Each sign, sense, and gift is unique, individual, and reciprocal. At every step there is potential to experience the unexpected – something magical, mystical, miraculous, unpredictable.
Unpredictable? Isn't that what psychic ability is all about – being able to see and predict the future? Not necessarily. Intuitive gifts come in many diverse shapes and forms – as many as there are people. Some have the ability to foresee things before they happen, but not all psychics receive such predictive vision, and even those who do, aren't necessarily shown all things, in all detail, all the time. It is a gift, up to the Source and Supreme Gift Giver to grant.
What makes an intuitive life richly rewarding, and conducive for helping others, is the openness to receive and transmit what is divinely placed in one's awareness, beyond the ordinary range of sense perception. Every genuine reader has something beautiful and meaningful to offer. As there is a multi-dimensional reality, so are there a multitude of angles from which truth may be revealed to one's intuitive sense of sight, sound, and touch.
Consulting with too many different readers can produce confusion, due to variations in the information received. Most often, however, these differences can be reconciled with deeper, discerning insight to understand how they weave together, to create an enriched texture of awareness of the many layers, sides, and subtleties of a subject.
Posted in

Divination, Empath, Energy, Intuition, Lightworkers, Paranormal Phenomena, Psychic, Psychic Phenomena, Psychic Readings
|
Tagged

automatic writing, channelling, clair senses, clairtangency, connection, Divination, energy flow, extra-sensory perception, gifted, gifts, grace, Intuition, intuitive, intuitive consultant, Law of Grace, medium, mediumship, mediumship reading, past life readings, phone psychic, prayer, precognition, predictions, premonition, prophecies, Psychic, psychic abilities, psychic access, psychic advisor, psychic attunement, psychic medium, psychic predict future, psychic reading, Psychic Readings, psychic senses, psychic tools, reading, resonance, retrocognition, scrying, spiritual counseling, spiritual guidance, spiritual insight, spiritual messages, Tarot readings, trance mediumship, wisdom
|
Leave a comment