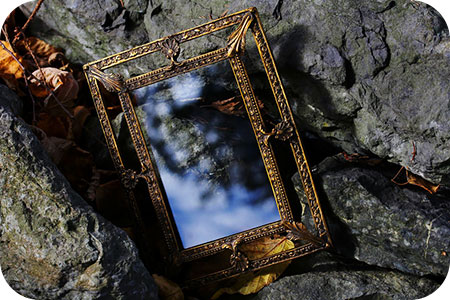 I just had a debate with a colleague about using a mirror as a divination tool, also known as scrying. She was adamant that the only type of mirror which can be used for scrying is a black mirror, which is made of darkened, smoky glass. In my experience this is not necessarily true.
I explained to her that one evening, in a dimly-lit hotel room, whilst I was brushing my hair in the mirror, I saw to my left, via my peripheral vision, my grandfather sitting in the room's armchair. He was smiling at me, and I remember this vision like it was yesterday.
I had only ever met my paternal grandfather twice, as a toddler, and I had almost no recollection of him at all, other than photos of him I was shown in later years. What I was told, on two occasions by psychics years later, is that he was always around me and that he would never allow any harm to come to me.