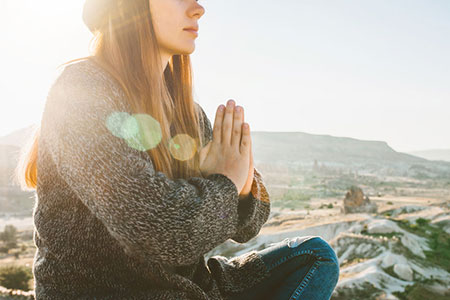 In uncertain times, it sometimes feels as though it is difficult simply to put one foot in front of the other, in order to get through each day. With so many stressors and concerns on the horizon, the hours can be consumed with worry and fear.
Although it is absolutely necessary for our survival to think ahead, plan and develop contingencies where necessary, it is also equally as important to carve out some time to meditate, dream or create, even if it is only for just a few minutes each day.
It can be truly rejuvenating to withdraw for a few moments into a serene state, where anything is possible and order prevails. If you can get out into nature to do this, all the better! If not, then use the mind's beautiful power of visualization to surround yourself with the idyllic scenery of your choosing.
To get started, practice deep breathing to calm your thinking and relax your body. Do not worry if your mind becomes distracted. Just bring your focus back to your breathing, and enjoy the environment that you have created. If you are not in the habit of daily meditation, it might seem as though your mind never remains still, but the ability to stay focused for a little longer during each session will come in time.
When you have achieved a sense of relative peace and tranquility, call on your healing Angels and Guides. Ask them to quiet your mind and heal your body. Ask them to show you the full scope of your issues and help you find the answers that will work best for you, and everyone else concerned. Ask them to guide, guard and protect your friends, family members, neighbors and co-workers, to reduce their worry and help them to make wise decisions.