Clouds Of Love Over The Rainbow Bridge
Published
December 5, 2021
|
By
Shani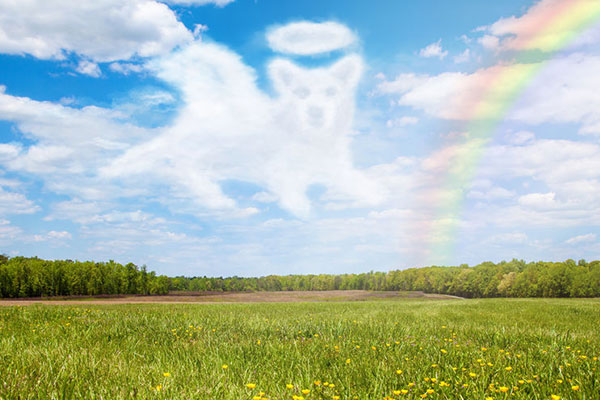 Yesterday, at sunrise, I was driving my cat to the veterinarian's consulting room. Approximately fifteen minutes into our journey, there was a beautiful rainbow ahead. With little traffic on the road at that early hour, I could ponder its splendor. Then, my thoughts drifted to the Rainbow Bridge and all my beloved pets that have crossed that bridge to the Other Side.
I thought of each one of the special furry souls that have graced my life with their presence over the years. I felt such a strong telepathic communication with each one of them in that moment. Finally, I thought of the little one who most recently passed, and the love and lessons we shared.
Then I 'heard'…and what about me? At that very moment, I noticed two large cloud formations had formed in the sky that resembled the front and the back view of my little dog, Nel. The shape and detail of the clouds were exactly like her!
Nel was a special part of my life and her passing very traumatic, especially since she died so young. Was I meant to miss her in my thoughts so she could come through as such a beautiful vision? I may never know the answer to that, but I do know what I witnessed was profound and very real.
So much has been written about the Rainbow Bridge. Yesterday, it all seemed highly relevant, because the day before setting out to the vet, I had been arranging some memorabilia on new shelves in my home that showcase pictures of all my pets who crossed over rainbow bridge. It is on display with some trinkets that remind me of them, like name tags and pretty boxes with their ashes I had not yet sprinkled.
Over the years, I have been shown various signs and symbols in cloud formations, but never anything so vivid and profound as yesterday. It was as if two 'photos' of my little dog had been posted in the sky, just as I was losing sight of that exquisite early morning rainbow.
Just this side of heaven is a place called Rainbow Bridge. When an animal dies that has been especially close to someone here, that pet goes to Rainbow Bridge. There are meadows and hills for all of our special friends so they can run and play together. There is plenty of food, water and sunshine, and our friends are warm and comfortable ~ Paul C. Dahm
The Rainbow Bridge is said to be the place our beloved pets and other animals go to when they leave their physical form and arrived on the other side of the veil. Believers refer to it as a magical, mystical place consisting of rainbow colors. Once there, the sick, traumatized, and old are healed and returned to a youthful state once more. It is a place of joyful reunions with kindred souls.
This morning a client called in on Psychic Access to request a dream interpretation. In her dream, she found herself in beautiful fields surrounded by every imaginable species of animal. She described it as an exquisite, ethereal setting. As an animal lover, and having owned many beloved pets in her lifetime, this came as no surprise to me. Clearly her dream was an afterlife vision beyond the Rainbow Bridge. What surprised the client was that she felt completely at home and the animals took no notice of her.
I believe only a small portion of our soul exists on this earth plane and the expanded part of us is over there, on the other side, our true home. The animals knew who she was in her dream, because she has always had a presence there. It was not merely an unexpected, brief visit!

About The Author: Shani

Shani is a qualified practitioner in Reiki, aromatherapy, reflexology, body spin, and animal telepathy who received psychic development training at the Arthur Findlay College of Psychic Research in England. A published writer, her articles and predictions have appeared in several respected magazines and on psychic websites, and she has read for many celebrities and even heads of state in Africa. Because of her empathy, people find it easy to connect with her. Every month, she attends a psychic circle and the information that comes through from Spirit never ceases to amaze everyone present. Though she was born in London, Shani has traveled the globe and has studied the art of African Mysticism, bringing her unique flavor to those seeking her incredible talents. What she has taken away from her many travels abroad, is that there is always a sort of longing clients have to be connected to the source of their being. Get a reading with Shani at PsychicAccess.com.


Posted in

Afterlife, Dreams, Metaphysics, Paranormal Phenomena, Pet Psychics, Psychic Phenomena
|
Tagged

afterlife, angel messages, angel signs, animal communication, animals, astral realm, astral vision, bereavement, crossing over, death, dogs, dream analysis, dream interpretation, dreams, etheric realm, etheric vision, evidential mediumship, grief, healing, heaven, loss, lucid dream, mediumship, memories, mental mediumship, pet psychic, pets, psychic dreams, psychic vision, sign, signs, spirit messages, spirit realm, spirit signs, spiritual messages, synchronicity, telepathy, the other side, visions, visitations
One Response to Clouds Of Love Over The Rainbow Bridge
This site uses Akismet to reduce spam. Learn how your comment data is processed.