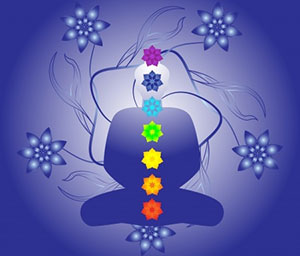 The sixth chakra, or Ajna is located at the brow, right between the two physical eyes. It is symbolized by a lotus with two petals.
The animal totem of the sixth chakra is the black antelope or black panther. The musical note that resonates with this chakra is "A". This is considered the intuition chakra and it is also referred to as the Third Eye.
It rules the sinuses, optic nerve, eyes, forehead and the frontal lobe of the brain. Its corresponding gland is the pineal gland.
The color for this chakra is a deep indigo. Foods to stimulate this chakra include Eggplant, blackberries, red cabbage.
Physically, Ajna deals with vision. Emotionally it deals with clarity on an intuitive level and mentally with visual consciousness. Spiritually it deals with compassion, empathy, foresight and psychic ability. Empaths, mediums, psychics, and intuitives usually have a very developed and open sixth chakra. Read the rest of this entry »