mediumship reading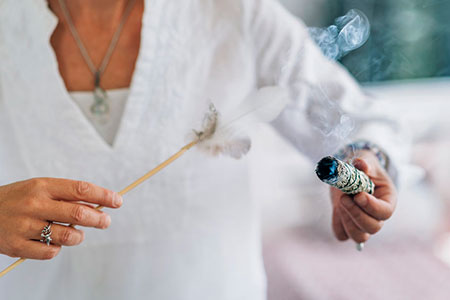 Clients sometimes ask me to do an energy clearing in their homes or businesses. In have even been asked to do a cleansing in stables, where the horses had been inexplicably out of sorts and acting out of character. The energy clearing methods I use vary from the more typical Western techniques to traditional African methods that I learned while living there.
One of the most memorable clearings I ever did was for a long-standing client who struggled with a deep sense of guilt over the suicide of her late husband. She had asked me to do an energy clearing ritual in her home, to see what I could pick up.
Her husband had ended his life sitting in a large, plush wingback chair in their home, where they were bringing up their two young children. Apparently, they had argued a lot in the weeks leading up to his death, particularly after he'd discovered her affair with another man.
Guilt overwhelmed her, and her late husband's family made their judgment of her very clear. They felt his passing was her fault.
In a mediumship reading I did for her, her late husband had come through with messages that proved he had crossed over to the Other Side, that he was at peace, and that she was never to blame for him choosing to depart from this life. Instead, he spoke of his own life-long battle with depression, and his personal failures in their broken marriage.
The mediumship validations were however not enough to ease my client's haunting feelings of guilt. She was convinced that her husband's troubled spirit was haunting their home, and she insisted on me doing an energy cleansing. She was, however, not keen on some of the more typical Western clearing methods, nor the shamanic African approaches I offered, so I suggested we simply use some sage incense and prayer, and she was satisfied for me to do so.
She also consented to me having free access to every nook and cranny of the house, because it is often surprising where energy disturbances can reside. She believed there was a heavy, dark cloud of negative energy around that wingback chair, but to my surprise, there was nothing! In fact, the whole room was clear of any negative vibrations. Continue reading →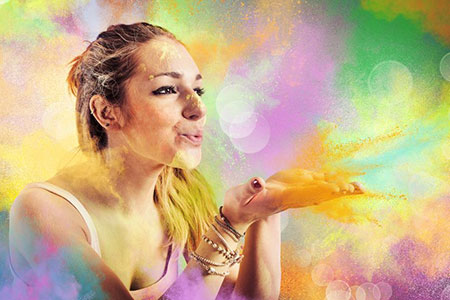 What a comfortable, easy life this would be if everyone could just feel like 'sunshine and rainbows' all the time. The truth is that the many of the most worthwhile things in life do not come from 'easy' and 'comfortable.' And when we suppress our true feelings, it is ultimately detrimental to our health body, mind, and spirit.
Revealing our true feelings does not come easily for many of us. I am not trying to make up an excuse, but I just was not brought up that way. My parents' generation were masters of the art of concealing their true feelings, good or bad. When I am doing a mediumship reading, and a departed parent or grandparent shows up, they often say things like, "I wish I told you more often how much I love you."
I could count on one hand the moments in my childhood that I can remember my parents showing affection for each other in front of us children. Those of us who had been brought up in such a stoic family environment, tend to struggle when are encouraged to express our deepest emotions. As an adult, I do however see the bigger picture today. And I do feel it is necessary to express one's feelings in a considerate and healthy way.
In my family my parents also never argued in front of us kids. My dad just gave my mom the silent treatment. We grew up thinking he was just be the 'strong silent type.' Consequently, I felt that this was what communication in a marriage should be like.
Of course, reality hit me badly with my first marriage, when my ex-husband and I had our first serious argument! I thought it meant the marriage was now over, because I had no coping skills or frame of reference for this kind of authentic self-expression in a relationship. I also had no clue how to have a good, healthy argument.