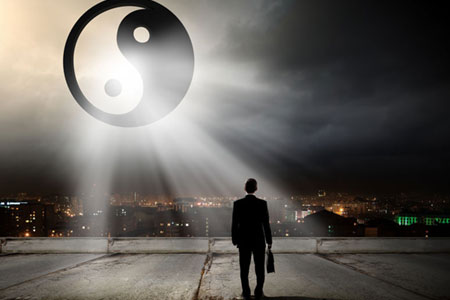 Karma is a universal spiritual law, the same way that gravity is a law of nature or physics. The Law of Karma basically states that 'as you sow, shall you reap.' Karma is therefore the spiritual principle of 'cause and effect.' For every action there is an equal reaction, or ripple effect.
Karma is also what keeps everything in the Universe in balance. The Chinese symbol of Yin and Yang perfectly illustrates this process of 'karmic balancing.' It shows how all the positive and negative forces in the universe balance each other out, because karma equalizes the energy that flows through everything.
Every single action that we take in life is therefore like a spiritual seed we plant. Some of the seeds will sprout quickly, while others may take lifetimes to come to fruition. However long it may take, one thing is for sure, in time every seed we sow will germinate… and we will eventually have to face the result of all our actions and choices.
Karma is therefore an endless chain of actions and reactions, which binds every soul to their good and bad deeds. The soul, born into a physical body, is constantly acting to bring about the results of activity from one life to the next. We choose to act in a certain way, and then become involved with the reactions or consequences of each chosen action.
After giving up one physical body, we eventually enter into another, and we mostly forget everything about that previous life. In this way the soul reaps the results of his actions, from lifetime to lifetime. Everything that happens in our lives is nothing but the reaction of past activities.