The Angelic Astrology Of Dolly Parton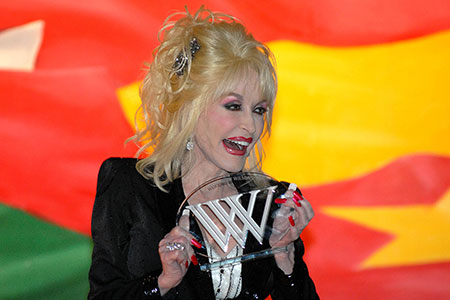 Dolly Parton is no doubt a national treasure and international superstar, always in our hearts, and lately also in the news headlines – and this inquisitive astrologer wanted to know why.
So, I took the liberty of looking into Ms Parton's Profection Year – an astrology technique I like to use for a voyeuristic peek into what's going on in the stars of our favorite stars.
To get started, I investigated her natal chart, which is basically the user manual or blueprint each of us is given at birth. Dolly was born with, as one might expect, some highly fortunate planetary positions in her chart.
She has her Venus and Moon in exalted signs, and her Jupiter – that larger-than-life reward-giver – in a very dignified position too!
Her birth chart predicts that she was going to go far in life. And quite easily, too. It even suggests that she might be put up on a pedestal of admiration by many. Hindsight certainly is 2020.
According to her chart, however, Dolly has earned every ounce of adulation she's received. Her Sun in Capricorn, and her Virgo Rising, make her a hard worker who's climbed her way to the top. She has an unstoppable genius, due to her Mercury in Aquarius, and a Mercury chart ruler that is planted firmly in her 6th house of tough grind and perseverance.
It's really no surprise that Mercury – a versatile, peculiar planet – is ruling her artistry and song writing prowess. And her unique voice (Mercury) is unlike any other (Aquarius).
Being a star just means that you just find your own special place, and that you shine where you are ~ Dolly Parton
My husband says that Ms Parton has the voice of an angel, and her chart agrees! Dolly's Venus in Pisces clearly points to this 'angelic' influence, which rules her career on the cusp of her 10th house (Midheaven), not to mention her lunar ascendant (Path of Fortune) that sits like a pot of gold at the end of her rainbow coat of many colors.
The stunning Venus does a lot of heavy lifting in her chart. It also rules Dolly's exalted Moon in Taurus, which explains her adoring fan base all over the world.
Earlier this year, Dolly was in the news again for another contribution to charity. This time it was for a considerable donation the Vanderbilt University Medical Center (VUMC) to expand scientific knowledge and advance research to curb the COVID-19 pandemic.
If your actions create a legacy that inspires others to dream more, learn more, do more and become more, then you are an excellent leader ~ Dolly Parton
A few days ago, her fans were thrilled to discover that her generous contribution had been used to partly fund the promising new Moderna Covid-19 vaccine, for which she is now being touted as a 'savior' and an angel of the pandemic. And here's why: Dolly's philanthropic nature (Mercury in Aquarius) is featured in her chart, front and center, this year. Her annual profection for 2020 is in Virgo (health), and its Mercury ruler is in her 6th house of health and service. You just can't make this stuff up!
But Ms Parton is not one to gloat. Her humble ruler in the 6th house would never allow her to take all the credit. Contributing to the betterment of others comes naturally to her, and she'd even feel uncomfortable claiming the spotlight on this matter. Her astrological predisposition is to feel it is her duty to give and do all she can! And aside from her winning personality, that golden voice, and her iconic beauty, she's really just a relatable 9 to 5 gal, who has stolen many hearts, yet again!

About The Author: Tracey

For 11 years, Tracey's predictive practice has taken her down the rabbit hole, where she's amped up her intuitive gifts by mastering new tools that are accurate and cutting edge. She began with Tarot, Numerology, Soul Path Energy Clearing and Natal Astrology, reading for her one-on-one clients in her private practice, at fairs and festivals, and at private parties. Her newest technique, Horary, is popping up on new apps and on social media. Horary is a predictive and magical form of astrology like a psychic reading, with a chart cast for the moment and quickly read by a highly trained practitioner in the art. Tracey currently lives in South Florida, but she maintains a busy practice with clients situated mostly in Los Angeles, NYC, Chicago, Atlanta, and Palm Beach. Past clients she has worked with include a well-known Disney actress, a comic book icon, an Emmy nominee, a luxury hotel entrepreneur, and the founder of Ben and Jerry's ice cream. Tracey was asked to be part of a panel for an exciting new YouTube series sponsored by the prestigious Wessex Astrologer. She is also a successful sci-fi and fantasy author with a new book recently released to rave reviews. You'll have a magical trip when you hop aboard Tracey's exciting Horary bullet train leaving the station at PsychicAccess.com.