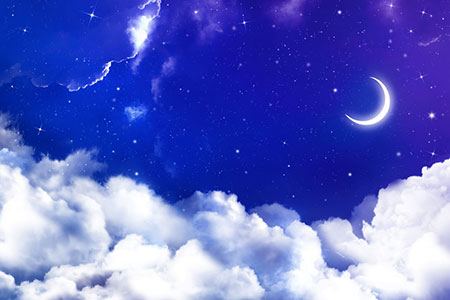 Today's New Moon offers a great opportunity to invite new growth and fresh opportunity into your life. The New Moon is a time of rising power and an ideal time for new beginnings and manifesting your desires. This is the perfect moment to set your intention for a new love, a new job, a new home, or any new project you may have been planning.
The phases of the Moon do not imply that the Moon changes in any way. It is the relative position of the Earth and the Moon that changes, creating a variety of angles in which we receive the sunlight reflected off the surface of the moon.
A full lunar cycle is approximately 29 days. The moon 'grows' from New Moon and gets 'bigger,' until it reaches a Full Moon, after which it recedes again. The eight Moon Phases in order are New moon, Waxing Crescent, First Quarter, Waxing Gibbous, Full moon, Waning Gibbous, Third Quarter, and finally Waxing Crescent.
The lunar cycle does not fully coincide with a calendar month. Some months may have two New Moons, while others only one. When there are two New Moons in the same months, the second one is called a Black Moon and it occur about every 32 months. The New Moon is considered, in most spiritual traditions, the start of the lunar cycle.