dog whisperer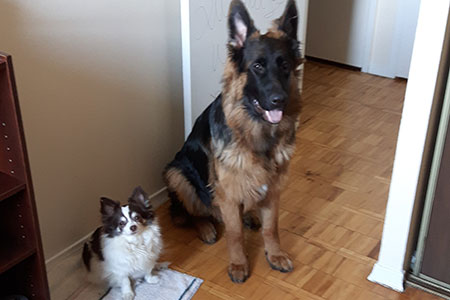 In 2017, I visited the vet with Max, my German Shepherd, for dental work. Max was a rescue from Germany surrendered by his previous owner because he was considered a "too active" puppy.
While we were waiting at the clinic, he suddenly started pulling his leash into the operating room and began barking at me to move faster. I was caught totally off guard. He had never behaved like this before.
At the time he had been with me for over 10 years and had the typical issues coming from being an elderly dog. But he was the most people and dog-friendly dog you could imagine. He was never unruly or aggressive and he seldom barked.
I followed him and soon found the reason for his excitement. A small Chihuahua was tied to the examining table and looking at us. I then realized that Max had sensed the little dog was scared. He started to comfort him by lying beside him and gently playing with him.
When the vet entered the room, she was astonished to see the two dogs comforting each other with face licking and wagging tails. She then revealed that Cody the Chihuahua had been surrendered to the shelter she did volunteer work for. Mr. Cody had not found a forever home yet, because had been labelled "aggressive towards other dogs."
Also, he was a hospice adoption because he was in an awfully bad shape. He suffered from serious heart failure and had never had dental work done before. The previous owner had him for 9 years and did nothing to ease his pain and suffering. No wonder he was acting aggressive – who wouldn't be with 13 rotting teeth in their muzzle!
At the time, I had recently immigrated to Canada and I had to start over from scratch. I arrived here with only suitcases and my dog. I was definitely not planning on adopting another dog. But that was not what destiny had in mind for me.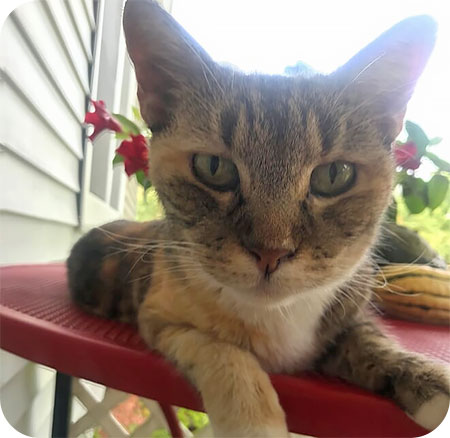 Losing a pet can be one of the most devastating things we go through. Many people are caught off guard emotionally when their animals transition. And too often the people around us do not understand the strong bond that can be formed between a human and their animal. They might say insensitive things like, "It's only an animal. Just get another one." These attitudes are not useful or helpful when grieving any kind of a loss.
The connection with an animal companion can be very deep and profound. They have no pretense. We do not need to wonder what kind of a mood our pet companions are in, and how it will influence our connection to them. Our animal companions join us on this planet to teach us about pure and unconditional love.  So, they always emanate this energy to us.
Rarely do our fellow humans express this level of unconditional love. Our animal friends are nearly always available to us when we need them. This is certainly not true of our fellow humans.
When we lose an animal companion, it is important for us to recognize the depth of their connection to us and understand that the pain of grief is real. I can remember my teacher asking, when we approached this topic of grief and loss, "Do you give yourself permission to go through the grief?"
It is also important to support ourselves in whatever way is necessary, when it comes to the loss of a beloved pet. Whether this means joining a support group, going to a therapist that specializes in grief and bereavement, and honoring wherever we are at in the process. There is a plethora of resources online related to pet loss and grief support.