Published
June 4, 2021
|
By
Tracey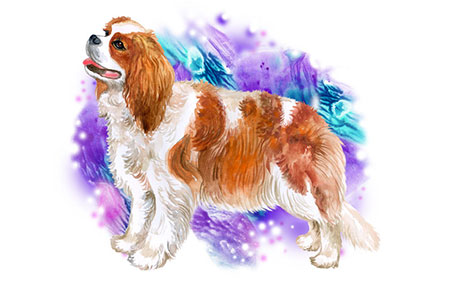 The agony of losing a dog is immeasurable. I lost my beloved Oliver, a King Charles Cavalier, several months ago and I'm still crying every day. But I have found some consolation in his afterlife signs and visits from the other side.
He was 11 years old and in perfect health, or so I thought. He'd had a full checkup three months prior and he had the test results of a very young dog! I also used to take him on long walks every day, his head held high, his tail wagging happily, a prancing skip in his step.
He was such a loving, happy dog. He stopped for every human, always begging for their attention and a pat on the head. Everyone knew him and loved him in the neighborhood.
He followed me around everywhere, lay under the table as I worked, always got up to join me for Yoga, and I left a spot for him behind my pillow every night at bedtime. I took him everywhere with me.
My 90-year-old mom lives across the street and that was his second home. He loved it there. One day, I was out running errands and he got loose. He then came knocking on my mom's door looking for me there. She was always happy to see him and invited him in.
One day he simply stopped eating. He refused his favorite dog treats, would not even sniff peanut butter. Then he stopped drinking water. We immediately took him to the vet for tests. Not long after, the kind doctor phoned. My heart sank. "His organs are already shutting down, there's nothing we can do for him," he said.
We rushed back to the vet, praying he would hang on long enough so we could say our goodbyes. He did hang on for us. My husband, daughter and I were all together when we first picked him up as a puppy and now we were together to see him off. They didn't even need to sedate him; he was already leaving his body and was calm as can be.
Just before they gave him the final injection, he suddenly turned his head and focused. I thought his loving gaze was on all of us, but my daughter insists he was only looking at me. There was no question he loved us all, but I did have an incredibly special connection with Oliver.
Posted in

Afterlife, Dreams, Paranormal Phenomena, Pet Psychics, Psychic Phenomena
|
Tagged

Afterlife, animal communication, animals, bereaved, crossing over, dog whisperer, dogs, Dreams, ghost, grief, haunting, loss, loved ones, paranormal, Paranormal Phenomena, pet psychic, pets, psychic dreams, signs, spirit animal, spirit communication, spirit contact, spirit messages, spiritism, spiritualism, The Other Side, visitations
|
Leave a comment