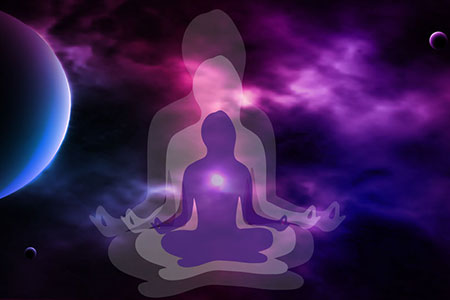 The human aura is a fine ethereal emanation which surrounds each and every living human being. This aura extends outward from the body in an egg-shape and is plainly visible to many clairvoyants.
The aura is brighter and wider around the head and shoulders and I believe that the classical artists must have seen the emanations when they painted halos around the head of great spiritual prophets and ascended masters.
Seen by the clairvoyant, the aura seems to extend some two to three feet from the body and it is most dense closest to the body, fading and becoming indistinct as it spreads out. Within this aura are all the colors of the spectrum. These colors denote certain spiritual and physical conditions.
However, the aura is constantly changing colors as the emotions of the human soul react upon the auric vibrations.
RED is a physical color and denotes physical desire, anger and passion.
BLUE is a religious color and denotes high spiritual aspirations and thoughts.
VIOLET and PURPLE shades are also of a high vibration and are present in the auras of healers and those with a well developed spiritual consciousness.
YELLOW is the inspirational color and when present in an aura denotes mental activity.
WHITE is the Pure Spirit, the emanation from the I Am and denotes great spirituality.