Reading The Human Aura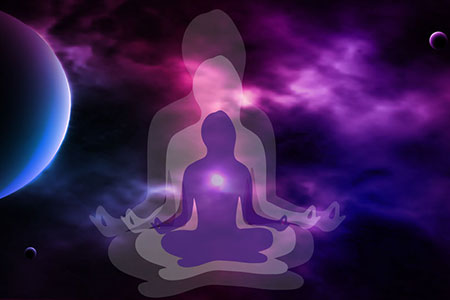 The human aura is a fine ethereal emanation which surrounds each and every living human being. This aura extends outward from the body in an egg-shape and is plainly visible to many clairvoyants.
The aura is brighter and wider around the head and shoulders and I believe that the classical artists must have seen the emanations when they painted halos around the head of great spiritual prophets and ascended masters.
Seen by the clairvoyant, the aura seems to extend some two to three feet from the body and it is most dense closest to the body, fading and becoming indistinct as it spreads out. Within this aura are all the colors of the spectrum. These colors denote certain spiritual and physical conditions.
However, the aura is constantly changing colors as the emotions of the human soul react upon the auric vibrations.
RED is a physical color and denotes physical desire, anger and passion.
BLUE is a religious color and denotes high spiritual aspirations and thoughts.
VIOLET and PURPLE shades are also of a high vibration and are present in the auras of healers and those with a well developed spiritual consciousness.
YELLOW is the inspirational color and when present in an aura denotes mental activity.
WHITE is the Pure Spirit, the emanation from the I Am and denotes great spirituality.
BLACK is the opposite of pure white and denotes the lower and more undeveloped forces.
Being able to 'read' the aura and understand the meaning behind each color has helped me understand the way I process information, my interactions with people, how I handle love relationships, and my purpose in life ~ Pamala Oslie
Most people are sensitive to color and respond consciously or unconsciously to the vibrations of certain colors of the physical body.
A good practice for a beginning clairvoyant is to study the outline of the leaves of a plant with eyes half closed long enough for the energy of the plant to come into focus. Then, transfer this same practice to a human body.
Remember, of course, to be practical in your study. Ask someone you know well to allow you to practice instead of going about staring at people in an erratic manner – you might make yourself look a bit silly!

About The Author: Mountain Sage

Mountain Sage's profession is Metaphysical Academics. Her extensive training includes Oracle, Healing, Universal Laws & Principles, the Sacred Circle and Psychic Shielding. Focus includes Ascended Masters, Altars, Minerals, etc. She holds the great honor of Oracle Carrier by her tribe due to her outstanding psychic ability, passion for the psychic realm, integrity and sacred work. Get a psychic reading with Mountain Sage at PsychicAccess.com.