An End-Of-Life Mediumship Experience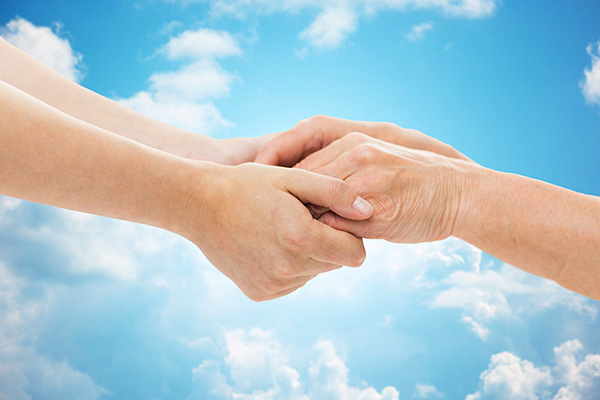 I have been doing mediumship work for over 40 years, but recently I received an unusual request I have never had before. I was asked to do a phone reading for a long-time client whose mom who was terminally ill and in hospice intensive care. My client said her mom could no longer speak, and she felt the need to communicate with her before she passed.
I have never done a mediumship reading under these circumstances, but I could hardly refuse my client's plea. So, I agreed, despite not being entirely confident about how it would unfold.
As soon as I started to tune in, I saw a vision in my mind's eye of a man holding both her mother's hands. I described the physical appearance of the two people I was seeing, and the daughter then confirmed that it was definitely her mom and her mom's brother.
The mother was very relieved to be able to reassure her daughter, as well as her life-long best friend, who was also present in the hospice room at the time, that she was finally ready to transition and return to her spiritual home.
Then I saw three angels standing behind the mother. They wanted to reassure those present that her crossing would be safe and easy, and that she would no longer be in so much pain.
When I perceive angels during readings, they appear to me exactly how one might expect them to look in the traditional Christian art sense, complete with wings and a glowing aura. However, I never see them with recognizable facial features and I always feel their presence first, before I see them.
The mother then had me relaying parting messages of love to her daughter, her friend, and rest of her family. She made it clear, for example, that she wanted her best friend to have the aquamarine ring she has always admired so much.
Many people worldwide have said shortly before their deaths that they have experienced visions of angels appearing to help them make the transition to heaven ~ Whitney Hople
She also congratulated her daughter on recently receiving her Phd degree, and then reassured her that she was proud of her just the way she is and that she must always remember this. The daughter later told me that these messages was very comforting and affirming, because in life her mom was a rather stoic woman who did not often express her feelings.
She then also requested to be cremated, which is a dying wish she never made clear to anyone in the family. Apparently, the daughter was very uncertain and undecided about what to do with her mom's remains, so this information was very helpful.
"Scatter my ashes at our place by the water…the place where you will be comfortable to visit," her mom communicated.
Before anybody makes the journey to the other side, we have to know on a soul level that we are leaving, whether it's an accident or illness, and we prepare ourselves to a certain degree that we won't be there in the future ~ John Edward
It was not clear to me where this place might be that she was showing me, but the daughter understood exactly what location her mom was referring to.
The mother's friend then asked how she might know in future when her friend's spirit is around. In my mind's eye I instantly saw a robin outside a window. The friend started to cry. Apparently, the two ladies used to love doing birdwatching together and every year they would compete to see who would be the first to see the first robin in the spring.

About The Author: Elizabeth

Elizabeth's talents go back several generations. She found her own gifts and embraced them at an early age, recognizing the difference between herself and most others around her. She's since honed and mastered many metaphysical practices, providing hypnotherapy, Psychic Mediumship, Mysticism, and Hypno-Reiki to her clients in Maine, and in areas around the US and in Canada, where she travels. A lover of pets, they are her greatest teachers and these unconditionally loving creatures often chime in on a reading in addition to the Angels, Guides and loved ones who provide resolution and answers for each of her clients. Elizabeth is also an author with much spiritual wisdom to impart and is currently working on a book. If you'd like to be a recipient of her unique Psychic Wisdom, find peace and receive answers that will also benefit your highest good, you can reach Elizabeth at Psychic Access.


This site uses Akismet to reduce spam. Learn how your comment data is processed.