The Energies Of The Aura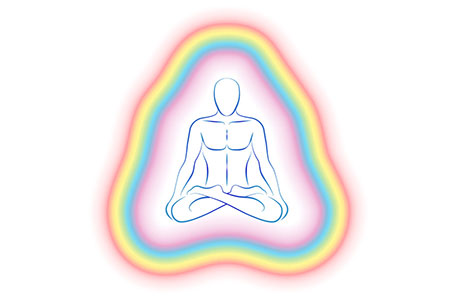 The existence of the aura has been known since ancient times, that is why one finds it in religious artwork and esoteric iconography. Some people think of it as a halo or glow around the body, as depicted in any of these images, but the truth is the aura is not something separate that surrounds or is attached to the body.
The aura is an electromagnetic energy field, also known as a biofield, that emanates from all living beings. The aura is not 'around the body,' but instead more like a light radiating from within the physical body.
Some clairvoyants can see the entire aura, which is shaped like an egg around the person. A person's aura can extend as a much a meter in diameter beyond the body.
Our aura is affected by our physical, mental, and emotional energy states. It reflects our personal energy frequencies and how we think and feel.
If we are in a positive state of consciousness, and we are calm, relaxed, grounded and centered, our aura will present as clear and light. In such states, you will see different patterns of energy and colors above the physical body of the people you observe, especially around the head. It is in an expanded state of consciousness.
But if we are stressed, disconnected, drained, or facing intense life challenges, a darker, heavier will reflect these imbalances and negative energies.
Because the aura is an electromagnetic energy, it acts like a 'magnet.' The energy charge it radiates sets up an electric field that attracts complementary energies and repels incompatible energies. It therefore determines what types of energies we attract into our life.
It is important to keep the aura free from negative energies such as anger, worry, fear and such other emotions that disturb the normal functioning of physical, mental and emotional systems ~ Surendra Kapoor
The principal personality colors that human auras tend to present are:
Blue. Honest, positive, and calm people with great confidence in themselves. They are usually very spiritual and generally have good health. However, dull blue auras can be associated with states of depression or moodiness.
Violet. It reflects spirituality and unconditional love at its best. These people are practical beings who know what they want to achieve in their life.
Pink. Lovers of art and the mystical; humanitarian people, who have reached the balance between the material and the spiritual. If it is dark pink, the individual may tend to be immature.
Red. Characterizes passionate and affectionate beings with a spirit of leadership and a desire to live. Sometimes it may reflect anger.
Yellow. Those who have this predominant tone in their aura are usually creative, optimistic, with a great sense of humor and quick mentality.
Orange. Emanates from individuals considered cordial, supportive, and with a lot of desire to live. If it is a dark orange, the individual may be selfish.
Green. The color of sympathy, trust, and tranquility. It is directly related to gifts for healing. However, dark green is synonymous with jealousy and insecurity.
White. These people tend to love truth, peace, and spirituality. Generally, they are idealists.
A person's aura colors can absolutely change over time. Changes in your energy are reflected in your aura, so your aura colors don't stay the same for your entire life ~ Allie Flinn
Indigo. They are loving and very understanding people. They are very intuitive and also very logical.
Golden. The individual with golden energies always aspires to the highest goals. He is unable to go through life without a worthy goal, one considered impossible by others. Also, the individual with a golden color may demand a lot from himself.
Silver. They have the gift of creativity, and their mental power is outstanding, still they need to know how to channel it correctly. They are the most idealistic of all.
Dark Colors. Black, gray, and brown are shades that reflect emotional imbalances or physical ailments. People with these characteristics are often full of anxiety and anguish, which translates into pain-causing behaviors.
The aura of a person is not immutable. It changes over time, with our spiritual evolution, and with the environment. It is essential to realize that it is not our life circumstances that determine the quality of energy we have in our aura, but our chosen responses to those circumstances.
Prayer and meditation cleanse our energy and improve our vibration creating a positive effect in our whole life, and this of course includes our auric field.

About The Author: Paul

Paul is literally living his dream, counseling others from a bustling neighborhood in Buenos Aires, in the very place he dreamt of living as a boy. Born with a Clairvoyance that he desired to explore further, he developed his gifts as an initiate of a prominent esoteric school, studying under the tutelage of a Master who helped him to tap into the Divine Presence through Tarot and the Runes. Paul studied the Qabalah and Ceremonial Magic and founded a research group with some friends, which focused on applying spiritual principles to everyday life. For over twenty years, he has shared his talents and knowledge with others, becoming a sought after teacher as well as a highly valued Intuitive counselor. If you would like the deeper meanings of your situation revealed to you and are willing to journey with him down a path that will give you clear answers and fulfillment in your life, you can find Paul at PsychicAccess.com.