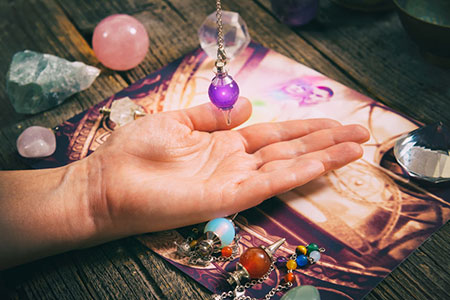 Each of us has spiritual guides on our side, whether we know it or not. These beings, whether they are angels, spirits of loved ones, or even animal spirits, are there to comfort, guide, nurture, and assist us.
Because we can't see them, their communication tends to be more subtle, and they are always trying to give us messages in small ways. But we can also connect directly with them. However, because we can't call them on the phone, or send them a quick text, there are other methods we can use to reach out to them.
The first method I often recommend is to use a set of oracle cards. The Tarot or Angel cards work well for this purpose, although there are many other oracle decks available these days. Choose one that feels right for you.
Ask your spirit guides a question, the more specific the better, and then choose a card randomly from your oracle card deck. This will serve as the answer you seek. Let your intuition guide you when interpreting the card's message.
You can also do a three-card spread, with one card each to represent the past, present, and future. Learning more about the meanings of your chosen cards will help you better interpret communications from your spirit guides.
Another method you can use to communicate with your guides is to dowse with a pendulum. A pendulum is any solid object connected to a string, chain or cord. As with oracle cards, you will want to find one which you resonate with, and feels in tune with your personal energy frequencies.
Posted in

Afterlife, Angels, Divination, Energy, Intuition, Life Design, Meditation, Mediumship, Metaphysics, Psychic Phenomena, Self-Help, Shamanism, Spirit Guides, Tarot
|
Tagged

angel readings, Angels, cartomancy, channelling, communication, consciousness, dowsing, dream analysis, dream interpretation, dream journal, dreaming, Dreams, guardian angel, guidance, inner guidance, inner voice, Intuition, medium, mediumship, mediumship reading, oracles, pendulum, power animal, psychic awareness, psychic medium, signs, spirit, spirit communication, spirit contact, Spirit Guides, spiritism, spiritual awareness, spiritual guidance, spiritual messages, spiritual practice, spiritualism, Spirituality, Tarot, tarot cards, tarot deck, Tarot readings, tarot spread, totem, trance mediumship
|
Leave a comment