leisure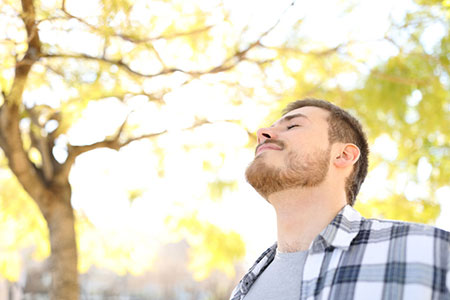 Internal peace sometimes eludes many of us. We have busy lives, moving at a fast pace. Some days it feels like we cannot even gather our thoughts in the midst of our obligations.  I am sure you already know that you should take some time to relax, and find moments for yourself. You should definitely do this. Having leisure time is important for a healthy life, as much as good diet and exercise.
But this article aims at those times in which the tide is high, and there is no real time to fully stop… at least no more than for a few minutes. What to do in such circumstances? These are a few simple tested ideas that people use in sports, acting, and even public speaking, to improve both their ease and their performance.
Breathing
Stay with your breathing. Stop paying attention to your thoughts and just focus on your breath. Do not try to control or slow it down, just feel it coming in and out. If you can, become especially aware of the moment when it changes from inspiration to expiration, and vice versa. This will bring a feeling of openness and clarity.
Visualization
Sit for a moment and visualize a white light in your heart. See this light grow with each breath, until you are inside a white light bubble. Now this is the important part: allow your body, your whole body, to dissolve in this white light for just a minute or two. After that allow the white light to recede into your heart. This releases a lot of tension from the body and clears the mind.