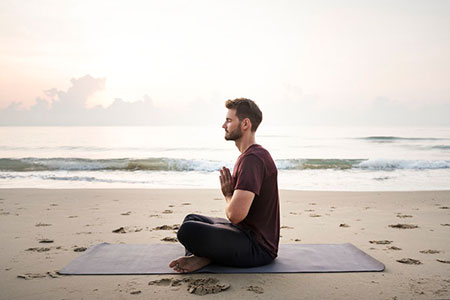 Meditation can easily be a part of your daily life. It is a simple spiritual practice. What is difficult is to change one's habits.
There are many variants of meditation, some of which you probably know and may have tried. If so, you may have discovered that the difficulties many of us face, when attempting to adopt meditation as a spiritual practice, are usually not related to the meditation itself. More often we are 'fighting' with our own minds. We are competing within, for the control, or the freedom of our mind.
Our enemies in this context are short-term rewards: leisure activities, such as watching TV, browsing social media, snacking, or anything that helps our neurons remain lazy. In these activities, attention is scattered and unfocused.
The mind thus learns to be 'random.' One could compare this state of mind to the behavior of a wild monkey. This restlessness has no practical purpose – it is just 'noise.' And it is happening all the time. We may feel we are actually doing something, but we are just passing the time.
Meditation puts a stop to this unnecessary mental activity. Although in meditation, one does not actively seek to stop thinking, one tries to generate the conditions in which thought is reduced, and the mind now merely observes whatever is happening: an idea, a feeling, a sensation. It is all just observed.