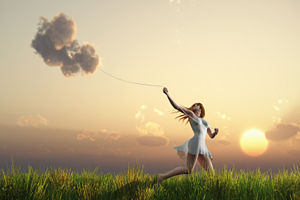 Despite the psychic readings we receive, the inspirational books we read, and the seminars we attend, we often tend to find ourselves back at the drawing board for inspiration. Why? I guess we need to inspire ourselves on an ongoing basis.
Clients who visit me for private consultations say they leave me feeling serene and all fired up to take on the world. Many of them also come back every now and again for what one high-powered lady calls her "fix".
And me? Well, I need to inspire myself on a regular basis, in order to be of any help to anybody else!
Visualization is an excellent way to 'recycle' some past moments of inspiration. We can make time in our busy worlds and synthesize all the knowledge and experiences we have gathered, in order to visualize what we want. By remembering and tapping into that feeling we had when we saw that moving film, attended that life-changing workshop or read that inspirational book, we can apply that intense feeling from a previous experience to what we want to manifest now. Continue reading →