Archive for February, 2014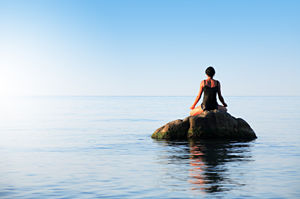 When we allow our minds to dwell too often on our past, or obsessively contemplate our future, we rob ourselves of the enjoyment of the moment.
Being fully present is the key to happiness. Being fully awake and aware of what is going on around us, in the here and now, is true mental freedom, in my opinion.
When I meditate, and focus only on my breath, I get to a point where I am free of thought. I can then completely allow all thoughts to come and go.. observed, but not noticed. It is then when I arrive at my "happy place". I love to arrive at this inner place I so love. It's a place of complete awareness, serenity and bliss; there really is nothing like it.
After my morning meditation I can go about the rest of my day without any 'blinders'. The blinds to my mind have been pulled up and I can then connect with those that are on the same frequency as myself. Read the rest of this entry »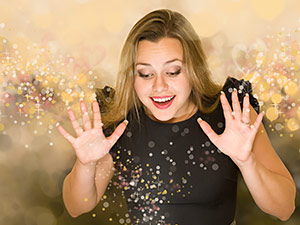 When we don't like surprises we choose not to take chances. But then, just by chance, we are chosen to be taken by surprise.
For instance, you make a very conscious choice not to ever take a chance on falling in love, because you are too sensible, educated and intelligent to let yourself be surprised by falling for anyone else.
And then one day, while participating in a literary discussion group reviewing a book that might be titled "Rational People Don't Fall In Love", just by chance, you are chosen to be taken by surprise. You and the person sitting next to you are astonished to realize that you are smitten with each other!
After this meeting of discerning, lucid people is over, and as time passes, you both discover that falling in love is not only quite possible for smart people, but, that sharing true love is also as sound as it is sublime. Read the rest of this entry »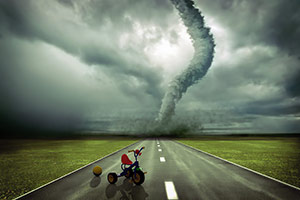 I have had many interesting dream experiences over the years and have witnessed how they often do reflect what is yet to come. I discovered this powerful prophetic nature of our dreams at a very young age.
One of the most memorable dreams from my childhood years involved a tornado. In this recurring dream I could hear the tornado sirens going off and I kept seeing an odd image of a piece of straw that went into a telephone. I kept seeing the time being 4:23 pm and I when I woke up, I knew that something was bad was going to happen. Every time I had the dream the tornadoes would get louder and louder.
Later, in April 1974, I was over my at my grandparents house when the tornado sirens went off. I was 12 years old and I started to freak out, because of those dreams I had been having. The sky was very dark and my grandparents had me go down into the basement for shelter. I remember my grandparents lighting a old oil lantern so we could have light. Read the rest of this entry »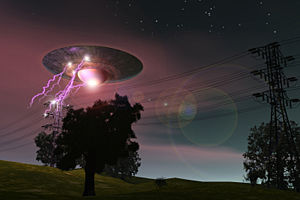 In upcoming interviews on The Psychic Viewpoint, on Psychic Access Talk Radio, I will be interviewing several persons that have had experiences with aliens, or who have been contacted by aliens or extraterrestrials (ET's).
Many of these experiences are accounts of events that have occurred in remote areas, probably so as to not frighten the angst ridden human populous. But many live to tell a good story on how they were first contacted by ET's and how their lives evolved from these experiences.
According to many of these contactees, including scientists, engineers and government employees, there is also possibly some form of psychic contact with aliens connected to these encounters. This can come in the form of dreams, or occasionally some visions these people may have after the experience, though many of the contactees would be diagnosed as "mentally ill" claiming such communication. Read the rest of this entry »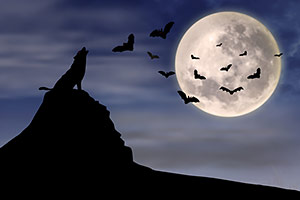 While meditating one afternoon and deep in the alpha state, I heard a male voice say to me: "You need to work, because someone needs you and needs to hear the message that you were given last night." I was not feeling very social and certainly not feeling much like working, but the voice was crystal clear.
I kept meditating and let it soak in. I mentally asked this voice to show or tell me how and what could this message be? Then I immediately saw an image of my dream journal.
Once conscious, I went over in my mind what I had just heard. Then I went to my room and grabbed my dream journal, which I keep by my head when I sleep. I always keep a clip on night light, so that I can see when I'm recording all my dreams – I often record them throughout the night. Over the past ten years I've gotten really good at waking myself up after a really good dream and writing down all I can remember. Read the rest of this entry »
Vampires do exist. Psychic vampires, that is. This is a hard fact to accept, but psychic vampires are very real!
Most people, at one time or another, have probably encountered at least one psychic vampire. For example, you meet up with a friend and they start a conversation, and little by little you start feeling tired, sleepy, exhausted… while they just happily keep up the banter. Finally, the person leaves and the only thing you want to do is to crawl into bed, for a good, long rest. Now, what really happened in that situation, is that your life force has been drained.
Not all vampires are bad, or even realize what they are doing to you. We just need learn to protect ourselves from their energy drain. On the flip side, there are psychic vampires who do know exactly what they are doing. These people are manipulative and do all of the taking without ever giving in return. Read the rest of this entry »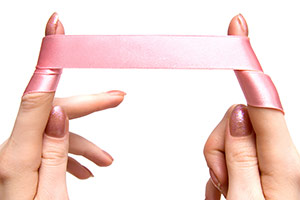 Several years ago, during a psychic awareness workshop at the Arthur Findlay College of Psychic Research in the UK, I had a profound experience with ribbon psychometry.
Exercises with psychometry are often done in groups of two, in which the participants exchange small personal items. Psychometry is the art of reading the energy imprints on objects. The objects can vary: photographs, jewelry or even a key-ring. These and other tokens must have meaning to, and has been handled primarily by their owner. The main objective is that the item carries the vibration of its owner.
Our class of ten was made up of men and women from all over the world, as well as a few from Britain. We were all new to the concept of reading with ribbons. Read the rest of this entry »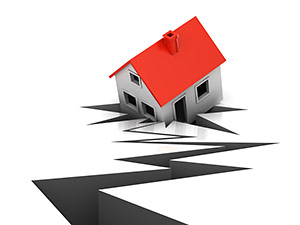 Over the years I have had many dreams I never knew at the time was a sign of things to come. There is one particular dream I had repeatedly, and I did not realize how its message would ultimately affect members of my family.
My first real job was with my brother. He owned a painting company and he offered me a job before my summer vacation in high school.
At this time I had a dream about my brother and sister-in-law. In my dream they were in an earthquake. Living in Ohio this was unlikely, as we normally do not experience earthquakes here. In this dream I can remember the ground splitting apart and my brother was reaching out to my sister in-law's hands, to pull her to safety. But he couldn't bring her to safety and at that moment I always woke up. Read the rest of this entry »